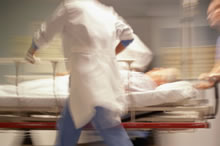 Clinical trials are critical for making progress in treating acute illnesses, but asking patients for consent to participate in these trials can be very difficult during serious and stressful circumstances that require emergency treatment and clinical trial enrollment decisions.  
A research team at Emory University School of Medicine (SOM), led by Neal Dickert, Jr., MD, PhD, has received a $1.07 million award from the Patient-Centered Outcomes Research Institute (PCORI) to study informed consent for clinical trials conducted in acute cardiovascular diseases.
The study will focus on developing patient-centered processes for involving patients and family members in decisions about enrollment in clinical trials in the setting of acute conditions like heart attack and stroke.
"Right now, little is known about how patients want their doctors to work with them to make these kinds of decisions," says Dickert, assistant professor of medicine in the SOM's Division of Cardiology and a staff cardiologist at the Atlanta VA Medical Center.
"We want to learn more about the experiences of patients who have had to make these decisions.  Learning from their experiences and views, we will then build and test processes that maximally respect patients in these serious situations. A crucial part of this project is our plan to create a patient advisory panel that will be engaged in every phase of this study."
The Emory study is one of 46 proposals PCORI recently approved for funding to advance the field of clinical effectiveness research that will provide patients, caregivers and clinicians with the evidence-based information needed to make better-informed health and healthcare decisions.
"This project was selected for PCORI funding not only for its scientific merit and commitment to engaging patients and other stakeholders, but also for its potential to fill an important gap in our health knowledge and give people information to help them weigh the effectiveness of their care options," says Joe Selby, MD, MPH, PCORI executive director.
PCORI is an independent, non-profit organization authorized by Congress in 2010 to fund comparative clinical effectiveness research.
---