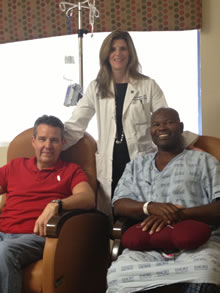 A Greensboro, Georgia police officer received the gift of life from a stranger in Texas who saw his touching plea for a new kidney on the internet. Raleigh Callaway, just 49 years old, was in Stage 5 kidney failure after suffering with chronic kidney disease and high blood pressure for years.
Callaway, his wife Kristi, and their two young daughters went public with their appeal for a new kidney, launching a Facebook page called, "Our Daddy Needs a Kidney." Their social media message went viral and the Emory Transplant Center received over 900 calls in just a few days of posting from people who wanted to get tested to find out if they would be a match for Callaway.
In McKinney, Texas, 50-year-old Chris Carroll saw the post and also felt called to help out. Carroll was tested and turned out to be a match for Callaway.
Callaway and Carroll met face-to-face for the first time last week, just days before Carroll would undergo surgery to give Callaway his kidney.
"It was a very emotional time," says Callaway. "Chris understands what it takes to keep going to be there for your family and support and raise your family. I am so thankful he found it in his heart to donate his kidney."
"God spoke to me about giving my kidney, so I got tested," says Carroll. "I have donated blood many times, but never before thought about donating a kidney. However, I would do it again tomorrow."
Just two months after the family posted its call for help via social media, Callaway received his new kidney on Sept. 25.
"Two months is an extremely short period of time from being listed for a kidney to finding a donor to actually having the transplant," says Nicole Turgeon, MD, assistant professor of surgery at Emory and Callaway's transplant surgeon. "We thank Chris Carroll for his donation and for all of the hundreds of others who called the Emory Transplant Center to see if they were a match. Many of those callers have gone on to be tested to hopefully donate their kidney to someone else in need."
Raleigh's new kidney did exactly what it was supposed to do -- bring all of his elevated numbers down and function as normal, explains Turgeon.
The Callaway's Facebook page now reads, "We found a kidney for Daddy." The Callaways hope to share their good fortune with others also needing a transplant by posting one person in need of a kidney a week on their Facebook page.
---