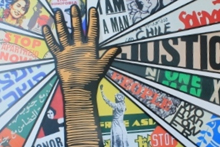 "Organizing. Culture. Change." is the focus of the 2014 Imagining America National Conference, which will be hosted by Emory University on Oct. 9-11.
Imagining America: Artists and Scholars in Public Life is a national consortium of institutions of higher education and community partners concerned about arts, humanities and design as well as the role of higher education in community development, engagement and the future of our society, according to Vialla Hartfield-Mendez, director of engagement learning in Emory's Center for Community Partnerships and a professor of pedagogy and Spanish.
This marks the first time that Emory has played host to the national conference, which is being held with support from Kennesaw State University, Alternate ROOTS and Auburn University. With Emory's rich history in both the liberal arts and community engagement, it was a natural fit, says Hartfield-Mendez, who chairs the local Imagining America steering committee for conference planning.
"Imagining America focuses on the notion that arts and humanities and design are critical to fully engaging people in society," she explains. "A lot of the work that's being done at Emory — and through the Commission on the Liberal Arts — intersects in interesting and productive ways with the work that Imagining America is doing."
Within this year's conference theme, Hartfield-Mendez sees an opportunity to explore the wide-reaching power of narratives — in higher education, for individuals, institutions, cities and regions — in affecting culture and change.
Some 400 registrants have signed up to participate in conference activities that reflect a range of issues at the intersection of higher education and community engagement, including:
Organizing and Disruption in Higher Education
Civic Professionalism: Developing an Action Plan for Your Campus
Imagining Alumni as Civic Agents: Building Citizen Alum Teams and Listening Projects
Libraries, Families and the Humanities (Where the Wild Things Really Are)
Terms of Translation: Articulating an Interdisciplinary Vocabulary with the Arts, Humanities and Design
How Do Cultural Shifts Towards Greater Public Engagement on Campuses Actually Happen?
What Up? Interdisciplinary, Inter-generational, and Inter-institutional Collaboration
Artists of Color in Higher Education: Preparation, Recruitment and Retention
At the Crossroads of Engagement: Intersections of Diversity and Public Scholarship
Cultivating Civic Spirit: Using Community Organizing in Higher Education
On Friday, participants will attend site-specific workshops located around Atlanta. Among those events are opportunities to learn about campus museums and community engagement at Emory's Michael C. Carlos Museum; to explore issues of education, sustainability and social justice at Emory's Office of Sustainability Initiatives; to learn about Emory's Transforming Community Project; and to visit the Healthy Hub, part of Emory's Urban Health Initiative.
Although some workshops will be held on the Emory campus, as well as other locations around Atlanta, the conference will be based primarily in downtown Atlanta at the Hilton Garden Inn and the Center for Civil and Human Rights.
Emory Alumni Board President Doug Shipman, founding chief executive officer for the Center for Civil and Human Rights, will present a keynote address "Words Changing the World: The Power of Personal, Communal and Allegorical Stories in Bringing Dreams to Reality" on Friday, Oct. 10, at 9 a.m. in the Hilton Garden Inn's Oceanic Ballroom.
For the conference's closing plenary session, Debra Vidali, associate professor of anthropology at Emory, will direct a performance of the Re-Generation Initiative, a project dedicated to re-generating civic engagement and community conversations through generative theater, storytelling, ethnography and multi-platform projects at 3:30 p.m. in the Oceanic Ballroom.
For a full roster of sessions and activities, check out the conference schedule online.
Registration is still open and Emory students, faculty and staff can still attend by volunteering to help with the conference.
Volunteers are being sought to work registration tables, post on social media and assist with onsite workshops at community partnership sites around Atlanta. Two hours of work will earn one day of conference access; six hours of work will grant free registration for the entire conference. To sign up, visit bit.ly/IAvolunteer.
---