Halloween events at Emory's Atlanta and Oxford campuses range from parties and pumpkin carving to an organ concert by Count Dracula and "Zombies and 'Zombethics'," the annual, very popular "lively, scholarly discussion about the (un)dead."
• Mummies & Mixers is Thursday, Oct. 23, from 7 – 10 p.m. at the Michael C. Carlos Museum, Reception Hall, Level Three.
The grown-up version of Mummies & Milkshakes debuts with a movie, snacks and mixology with the Pinewood Tippling Room. Abbott and Costello's "Meet the Mummy" will be playing and docents will be available in the galleries to share interesting facts about the mummy collection. RSVP by phone, 404-727-2635, or online.
• Mummies & Milkshakes takes place Friday, Oct. 24, from 6 – 9:30 p.m. at the Michael C. Carlos Museum, Levels One and Three.
View animal and human mummies, plus watch vintage mummy cartoons and the Three Stooges' "We Want Our Mummy" and Abbott and Costello's "Meet the Mummy," all while sipping on your favorite milkshake flavor from Jake's Ice Cream. Halloween costumes are encouraged.
Galleries will be open from 6 to 9:30 p.m. From 6 to 7:30 p.m., docents will be in the Egyptian galleries to tour families and answer questions. RSVP required by Wednesday, Oct. 22 by calling 404-727-0519. This event is free for Carlos Museum members; $5 for non-members. Milkshakes sold separately.
• Jake's Open House Halloween Party is set for 2 – 4 p.m. on Sunday, Oct. 26, at the Miller-Ward Alumni House.
The Emory Alumni Association hosts the annual Jake's Open House Halloween Party, an afternoon of family friendly activities, including arts and crafts, carnival games, a bounce house, picture booth, treats and prizes. Costumes are encouraged. Meals are $8 for adults and $5 for kids from Willy's food truck and include an entree, chips and a drink.
Donations to Bert's Big Adventure serve as the admission to the event. The nonprofit organization provides trips to Walt Disney World for chronically or terminally ill children and their families; requested items include coloring/activity books and crayons, travel-size hand sanitizer/hand wipes; and travel-size toothbrushes and toothpaste. Those who donate bonus items (such as Disney DVDs or $25 Wal-Mart gift cards) will receive a free meal.
• Emory Farmers Market Pumpkin Carving Contest takes place Tuesday, Oct. 28, at noon at Cox Hall Bridge.
This year's Pumpkin Carving Contest is different in that participants will carve the pumpkins at the Farmer's Market instead of taking them home as they have done in past contests.
"If [participants] decide to leave their pumpkins, we display them in Cox Hall," says Tiffany Smallwood, marketing coordinator for Emory Dining. She says the pumpkins are regionally sourced from a pumpkin patch in Valley Head, Ala. "In addition to the pumpkin carving contest we will be give away samples of pumpkin soup. Our nutritionist will also be on hand talking to people about the benefits of eating pumpkins."
Another difference: The winners will be determined by paper vote by the market attendees this year, according to Emily Cumbie-Drake, sustainability programs coordinator.
• Cemetery Walk gets under way Wednesday, Oct. 29, at 6 p.m. at the Student Activity & Academic Center (SAAC).
Gary Hauk, vice president and deputy to the president of the university, will be giving the fourth annual tour of the old cemetery on the Clairmont Campus. "It dates to 1825, and its old tombs include some familiar names, like the Houstons of Houston Mill Road, as well some stories of tragedy, war, and a little mystery," Hauk says. The cemetery is a place many people don't know about, even though they pass it every day, Hauk adds. Afterward, join fellow participants on the lower terrace at the SAAC for cocoa and s'mores.
• "Scary Ride" Halloween organ recital is Wednesday, Oct. 29, at 8 p.m. at Emerson Concert Hall at Schwartz Center for Performing Arts.
Emory organist Timothy Albrecht, as Count Dracula, performs an hour-long program of Halloween-invoking music for all ages. Costumed audience members are invited to join a march during the performance of "Transylvania March." Eerie sound and lighting, props, fog, projections, coffins, screams and more create the atmosphere. The free and open-to-the-public concert is followed by a candy reception and an opportunity to pose for photographs with Count Dracula.
• The Halloween Party at Dobbs Market will be Thursday, Oct. 30, from 4 - 8 p.m.
"We will have decorations and some Halloween inspired food items on the menu," says Tiffany Smallwood, marketing coordinator, about the annual celebration at Emory Dining. Costumes are encouraged, though no contest is being held.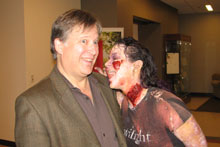 The Center for Ethics, led by director Paul Root Wolpe, presents its annual "Zombies and 'Zombethics'" discussion on Friday, Oct. 31.
• "Zombies and 'Zombethics': A Lively, Scholarly Discussion About the (Un)Dead," a scholarly Halloween favorite, will be Friday, Oct. 31,  from 9 a.m. – 1 p.m.  at the Center for Ethics, Commons 102.
This year's symposium is themed "Our Fearful Fascination with the Other." Othering refers to the process by which we make something foreign or alien based on its divergence from our familiarity with it, according to Cory Labrecque, Raymond F. Schinazi Scholar in Bioethics and Religious Thought.
"Through conceptualizing an entity as 'the Other,' we transform someone from a subject to an object and, in doing so, othering becomes a form of oppression," Labrecque says, noting that it possibly serves as a way to manage our fears.
 "In this conference, we will explore how our internal and societal values conflict with conceptualizing and engaging with 'the Other' through an exploration of representations of monsters and the zombie genre," he adds.
Panel discussions include "The Southern Other" at 10 a.m., "Extraordinary Bodies: Disabilities and Monsters" at 10:45 a.m. and "The Zombie in Film, Religion and Ethics" at noon. Seating is limited so an RSVP is required.
• Haunted Harris: Descent into Complex wraps up Emory's Halloween events on Saturday, Nov. 1, from 8-10 p.m. at the residence halls of Harris, Thomas, Smith and Hopkins.
The theme this year is "haunted schoolhouse," according to Nico Rose of the Office of Residence Life & Housing. Put on by the Resident Assistants and Student Assistants of Harris and Complex (Thomas, Smith, Hopkins) Halls, the event, just for students, begins at the Clifton Road entrance of Harris Hall, and travels throughout Harris and Complex Halls.
"There will be seven different experiences throughout our haunted schoolhouse," Rose says. "We will also be collecting optional donations for Relay for Life." Light food will be served.
'Halloweek' at Oxford College
Oxford College celebrates "Halloweek" with a daily dose of spooky fun. Events include:
• Haunted Coffeehouse is Monday, Oct. 27, from 9-10:30 p.m. at Dooley's Tavern.
The tavern is turned into a haunted house with festive treats and coffee.
• Dean Moon's Haunted Tour will be Tuesday, Oct. 28, from 8-10 p.m., beginning at Candler Hall Student Center.
Dean Joe Moon leads his annual haunted tour around Oxford College's campus. There will be two tour times, and the $4 charge to participate is donated to a local charity. Coffee, hot chocolate and refreshments will be provided by the library.
• Murder Mystery Dinner is Wednesday, Oct. 29, from 7-9 p.m. at Candler Hall Student Center.
"Masquerade" is the theme for an interactive theatrical performance by a professional acting company. The event is limited to the first 60 participants. Light snacks will be provided.
• Fall Fest is Thursday, Oct. 30 from 5-7 p.m. at Candler Hall Student Center and on the Oxford Quad.
There will be activities, games, giveaways and more to celebrate fall.
• Fun Friday is Friday, Oct. 31, at 4 p.m. at the Candler Hall Student Center.
Prizes will be awarded for different categories in the annual costume contest. The theme of the Fall Formal will also be revealed. 
---