The Emory Medal, the university's top alumni honor, will be presented Oct. 7 to William O'Kelley, senior United States district judge for the Northern District of Georgia, and John Stephenson, executive director of the J. Bulow Campbell Foundation.
"The Emory Medal is the highest alumni award given by Emory University and, as such, recognizes alumni who represent the very best of Emory University," says Leslie Wingate 82C, senior director of the Emory Alumni Association.
First awarded in 1946, the Emory Medal is typically bestowed on alumni for their accomplishments in at least one of the following areas: distinguished service to Emory, the EAA, or a constituent alumni association; achievement of the highest distinction in a field of learning, the arts, the professions, or public/community service; or compelling reasons why it would be particularly fitting for the Emory Alumni Association to honor the nominee.
William O'Kelley 51C 53L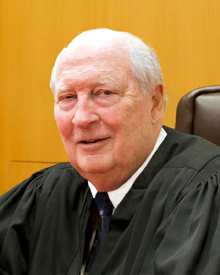 William O'Kelley 51C 53L is a senior United States district judge for the Northern District of Georgia. He has been appointed to the Alien Terrorist Removal Court for successive five-year terms by Chief Justices Rehnquist and Roberts.
"He has brought honor to the name of Emory University by his distinguished career on the bench, and by his loyalty to the university," one nominator writes. His nomination also cites that he exercises "even judicial temperament, high ethical standards, and genuine concern for the needs of all who appear before him." His former law clerk states, "[he] has adjudicated without passion or prejudice, ensuring that the rule of law prevails."
O'Kelley is a scholar and a teacher as well as the recipient of both the Emory Law School's Distinguished Alumnus Award and the Significant Sig Award from the national Sigma Chi Fraternity. The Judge William C. O'Kelley Endowed Scholarship Fund was created in his honor, spearheaded by Emory alumni who served as law clerks to O'Kelley.
He has supported his alma mater as a mentor to students, by hiring Emory law students as law clerks, and through service on the Law Advisory Board, the Emory Board of Trustees, and numerous committees. In the Atlanta community and beyond, O'Kelley also serves leadership roles in numerous organizations and charitable foundations.
O'Kelley served as a member of the U.S. Air Force Judge Advocate Corps followed by a distinguished career on the bench of the U. S. District Court as Chief Judge for the Northern District of Georgia from 1988 to 1994. He was appointed to the Foreign Intelligence Surveillance Court by Chief Justice Burger and served in this role from 1980-87.
O'Kelley was elected by his peers to the Judicial Conference of the United States (the governing body of the federal judiciary) and was nominated by Chief Justice Rehnquist and elected by the Judicial Conference to the Board of the Federal Judicial Center (the educational and training body of the federal judiciary).
He is married to Ernestine (Teeny) Allen O'Kelley. The couple has two children, Virginia Leigh O'Kelley Wood and William C. (Bo) O'Kelley, Jr., five grandchildren and one great granddaughter.
John Stephenson 70C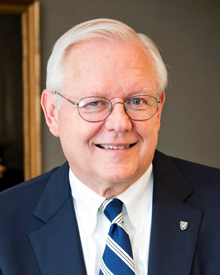 John Stephenson 70C is the executive director of the J. Bulow Campbell Foundation, a private charitable foundation established in 1940 through the estate of Atlanta businessman, J. Bulow Campbell. The Atlanta philanthropy awards grants in education, human services, youth development, arts and cultural institutions, and Christian-based charities.
Named a 175 Emory Maker of History, Stephenson has spent his entire career in education administration and philanthropy. His associations with Emory — student, alumnus, administrator and unswerving advocate have, in his words, "provided a life-long source of pride and profound sense of appreciation for Emory's influence on my life."
Over the years, Stephenson has counseled Emory students on their career aspirations, guided Emory officials in the course of his duties at the foundation, and taken every opportunity to reveal to others Emory's strengths and values.
Stephenson received his bachelor's degree in economics from Emory College in 1970 and his master's degree in business administration from Southern Methodist University in 1973. While a student at Emory, Stephenson was president of the Kappa Alpha Fraternity, president of the Emory Men's Glee Club, and among the founding members of Ad Hoc Productions. He was elected to Emory's Senior Society (DVS) as a member of the Class of 1970 and has remained close to DVS current and alumni membership, enjoying time with students and young alumni alike.
Stephenson serves leadership roles for several Atlanta-based foundations and has been actively involved in many community and scholarship organizations. Prior to joining the Campbell Foundation in 1985, Stephenson served Emory Presidents Sandy Atwood and Jim Laney for 12 years as assistant to the president, secretary of the university and vice president.
Stephenson is married to Lizanne Stephenson and has two sons, John W. Stephenson, Jr. and J. David Stephenson, two step-daughters, Claire Abreu Webber and Katherine Abreu, and three grandchildren.
---