Julie Mote gently paged through a photo album of black and white images showing children gardening, laughing with arms around each other, or riding the bus. Each photo was clearly labeled in neat handwriting with names, events and dates. Smiling, she pointed out an image to a friend standing next to her. When asked why she keeps all the old albums, she quietly answered, "I don't know."
"Yes, you do," said her daughter Clara, who had accompanied her to the annual Children's Home alumni gathering held Oct. 4 in Decatur. "The photos are special. These people are your family."
Julie grew up at the United Methodist Children's Home, along with the dozens of other individuals at the event. The Children's Home was established in 1871 to care for children orphaned during the Civil War, and it evolved over the years to help children and families as their needs grow and change. The campus had its own water system, school, farm and church, and at maximum capacity housed 150 children by the late 1960s.
A partnership among Emory University, Kennesaw State University and the Children's Home will preserve the memories of participating alumni through an archive project. Kennesaw State students interviewed individuals at the Oct. 4 event, and the recordings will be given to Emory University's Pitts Theology Library. The library also will house photographs and other historical artifacts from the Children's Home.
"It fits well within our wider scope of United Methodist history," said Robert Presutti, curator of archives and manuscripts for the Pitts Library. "We are the repository for the North Georgia Conference's district and conference-level administrative records, which includes higher-level administrative records from throughout the conference — we felt there was an obvious connection."
One of Emory's six instructional libraries, the Pitts Library maintains a distinguished collection of theological materials, providing rich resources for the Candler School of Theology, the university at large, and the greater Atlanta community.
"The Pitts Library seeks to reach beyond Emory's gates in engaging the community, so this collection will definitely be made available to outside researchers," Presutti said.
Student volunteers have helped organize and inventory the collection, which includes oral histories, transcribed interviews and photos, among other documents. Though work on the collection continues, "we have a policy that even partial or unprocessed materials are available, so the material is already available," Presutti said.
Creating a permanent home for the collection represents a critical step in conserving an important piece of regional history, according to Julia Brock, Kennesaw State University public history professor.
"These stories need to be preserved," she said. "They add texture to our understanding of the history of child welfare and advocacy in the South. The Children's Home is an historic institution; oral histories shed light on important changes at the Home in the 20th and 21st centuries."
A safe place to be a kid
Liz Brown came to the Children's Home in 1961 at age seven. After overcoming the fear of leaving her dysfunctional childhood home and being placed into an environment with complete strangers, she was relieved to find safety, friends and three meals a day.
"It was nice to experience being a kid," said Brown, who shared her story for the archive project. "My first seven years were spent playing the parent and protecting my siblings, as they did for me. I gained many new brothers and sisters at the Children's Home. We have a common bond that no one can ever completely understand. I get great satisfaction from seeing all my brothers and sisters each year."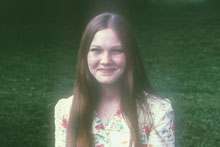 Debora Burger during her time as a resident of the United Methodist Children's Home. "The kids growing up with us were our family," she recalls. Photo courtesy of the Children's Home.
Their bond is based on memories that are too painful for some to revisit.
"Time doesn't necessarily make our memories rosy," said Debora Burger, who lived at the home in the mid 1960s and early 1970s. "Some alumni don't come to our annual gatherings. This wasn't where we wanted to be, but the kids growing up with us were our family. We supported each other, and we celebrated each other's milestones. It was bittersweet. And some of us remain the closest of friends."
For most of its first century, the two main services offered by the United Methodist Children's Home were orphanage care and help with higher education. Those priorities shifted over the decades, and in 2010 the Children's Home stopped offering campus-based group care, while increasing its family housing, which provides housing and support to families with children who are at risk of homelessness.
The nonprofit agency also offers foster care placement, a transitional living and skills program for youth aging out of Georgia's foster care system, emergency financial assistance, family counseling and parenting skills education.
With some alumni now in their mid 80s, this is a critical time to preserve their history before it is lost to time. If you or someone you know is a Children's Home alumni and wants to participate in this project, contact Dr. Julia Brock.
Kimber Williams contributed to this report.
---