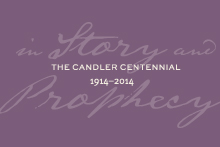 Candler School of Theology at Emory University, founded in 1914, officially commemorates its 100th birthday during a two-day centennial celebration Oct. 23-24. Events include Thursday's worship service and "Memories of Candler in Word and Music," as well as Friday's Centennial Convocation, which features recognition of Candler's Centennial Medalists.
The two-day celebration is part of a yearlong commemoration named "The Candler Centennial in Story and Prophecy," designed to showcase Candler's contributions to theological education and to the church during the past 100 years and to engage students in conversation about the future of theological education. The commemoration features a series of events, performances and exhibits during the fall and spring semesters.
"The fall focuses on our story, taking into account what've we've done well, but also acknowledging where we have failed to meet the demands of the Good News," says Luke Timothy Johnson, R.W. Woodruff Professor of New Testament and Christian Origins, who serves as chair of the centennial. "But in the spring our academic conference will be our prophetic moment — and we don't mean predicting the future — but speaking a vision to the present."
Candler has graduated more than 10,000 students since its first degrees were conferred in the spring of 1915. Approximately 70 percent serve as pastors in congregations, but significant numbers have pursued vocations in education, law, business, social justice and the arts. One of 13 official seminaries of The United Methodist Church, Candler is ecumenical and diverse. Its student body of about 450 represents some 40 Christian denominations and 16 countries.
"The vast majority of students who have come to Candler these first 100 years have been deeply dedicated to making a profound, positive difference in the world," says Candler Dean Jan Love, "and I believe during the next century, we will see the same from our graduates. I'm confident we'll be able to stand back and watch them work their wonder."
Friday's Centennial Convocation features keynote speaker Luther E. Smith Jr., professor emeritus of church and community. Smith spent 35 years at Candler impressing upon students the need for justice and inclusivity and teaching them how to actively work toward transformation in the world around them. He served as a live demonstration, working as a humanitarian and activist everywhere from homeless shelters and welfare agencies to boardrooms and government buildings in his effort to create meaningful change.
Among his many accomplishments was founding the Interfaith Children's Movement in 2001 to mobilize people of faith to address the challenges of poverty and sexual exploitation that were facing children in Georgia.
In addition to being an activist, Smith is a leading scholar of Howard Thurman and an outstanding teacher. He has garnered numerous teaching accolades, including the 2010 Emory Williams Distinguished Teaching Award, Emory University's highest award for excellence in teaching. He retired from Candler in August.
The Emory community is invited to participate in this week's centennial celebration events. Register here.
Thursday, Oct. 23
11 a.m., Cannon Chapel: Worship Service of Word
Preacher: Brent Strawn, Professor of Old Testament
Debut of Candler's Centennial Video
6 p.m., Cannon Chapel: Memories of Candler in Word and Music
The story of Candler told through live presentations and performances by Candler faculty, staff, students, alumni
Friday, Oct. 24
10:30 a.m., Glenn Memorial United Methodist Church: Centennial Convocation
Keynote address by Luther E. Smith, Jr., professor emeritus of church and community, titled "Since We are Surrounded"
Official greetings from university and church leaders, including James W. Wagner, president of Emory; Hank Huckaby, chancellor of the University System of Georgia; and William McAlilly 81T, resident bishop, Nashville Episcopal Area of The United Methodist Church
A new arrangement of the hymn "Rejoice, Ye Pure in Heart," composed for the occasion by Carlton R. Young, professor emeritus of church music
Recognition of Candler's 56 Centennial Medalists, chosen for their extraordinary service to the school, the church and society over the past 100 years. View a list of medalists.
A Centennial Convocation lunch will follow in the atrium of Candler's new building.
Learn more about Candler's centennial
---