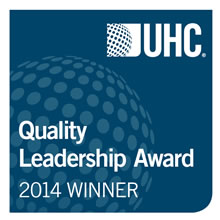 University HealthSystem Consortium (UHC), a national organization comprised of most of the nation's leading academic medical centers, has ranked Emory University Hospital (which includes Emory University Orthopaedics & Spine Hospital) eighth in the nation in the 2014 UHC Quality Leadership Awards. This is the fourth consecutive year that Emory University Hospital has ranked in the top 10 for demonstrating superior performance in delivering high-quality care and safety excellence.
The announcement was made at the UHC Annual Conference in Las Vegas on Thurs., Oct. 23.
Emory University Hospital Midtown, which is Emory Healthcare's second academic and eligible hospital, ranked in the top quartile as 22nd nationally.
The Quality Leadership Award honors top performers in UHC's Quality and Accountability Study, which ranks performance in the areas of: mortality, effectiveness, safety, equity, patient centeredness and efficiency. These rankings are the most rigorous in health care and look at how major teaching hospitals are doing in multiple dimensions of quality and safety, and are traditionally looked upon as providing the best, most non-biased national quality measurement system available for teaching hospitals. 
"Since 2006, we have been on a journey to have our two academic hospitals- Emory University Hospital and Emory University Hospital Midtown – rank highly by the UHC," says John Fox, president and CEO of Emory Healthcare. "We are proud of our successes, as our number one priority at Emory Healthcare is to provide safe, high-quality care for our patients."
Last year, Emory University Hospital ranked second and Emory University Hospital Midtown ranked third nationally in the UHC rankings. Emory Healthcare is the only organization to ever have had two hospitals within the same system rank in the top 10 (both in 2012 and 2013).
Academic medical centers typically treat America's sickest, most complex patient cases, and a disproportionate number of patients who are uninsured, underinsured or indigent. Additionally, Emory's hospitals, like many other academic medical institutions, are centers for cutting-edge scientific research and biomedical innovation and training, leading the way for tomorrow's treatments and cures. 
Formed in 1984, UHC is an alliance of 117 academic medical centers and 310 of their affiliated hospitals, all focused on delivering world-class patient care, representing a majority of the nation's academic medical centers.
---