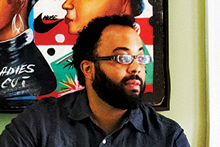 Seven poets and authors, including Natasha Trethewey, Kevin Young and Tracy K. Smith, will come together along with the Vega Quartet and two special guests to celebrate the life and work of the late Irish poet Seamus Heaney on Thursday, Oct. 2, at 7:30 p.m. in Schwartz Center for the Performing Arts at Emory University.
"A Tribute to Seamus Heaney in Poetry and Song," open to the public at no charge, kicks off the 2014-2015 season of the acclaimed Raymond Danowski Poetry Library Reading Series at Emory's Manuscript, Archives, and Rare Book Library (MARBL).
Due to limited seating in the auditorium, tickets are required for the free event and are now available through the Schwartz Center box office. A limited number of tickets also are available at four local independent bookstores and must be picked up in person. (See ticket information sidebar for complete details.) All tickets are limited to two per person.
The event coincides with the exhibition "Seamus Heaney: The Music of What Happens," on view in the Schatten Gallery at Emory's Robert W. Woodruff Library until Nov. 25. The exhibition contains photographs, poetry drafts, rare editions and other materials from the Heaney papers held by MARBL.
The program includes:
Natasha Trethewey, two-term U.S. poet laureate, is the author of five books of poetry, including the Pulitzer-winning "Native Guard," and a book of poetry and essays, "Beyond Katrina: A Meditation on the Mississippi Gulf Coast." She is the director of Emory's Creative Writing program and the Robert W. Woodruff Professor of English and Creative Writing.
Kevin Young is author of eight books of poetry, most recently "Book of Hours," and editor of eight poetry collections. He is curator of literary collections and of the Raymond Danowski Poetry Library at the MARBL and Atticus Haygood Professor of English and creative writing at Emory.
Tracy K. Smith is the author of three books of poetry. Her most recent collection, "Life on Mars," won the 2012 Pulitzer Prize.
William Corbett has written 15 books of poems, two memoirs, and multiple critical essays, and his connections with other poets and writers have become legendary. He directs the small press Pressed Wafer.
Vona Groarke is an Irish poet with five published collections, including "Flight" and her most recent, "X."
Nick Laird is an award-winning Irish writer of poetry and fiction, including "Go Giants" and "Glover's Mistake."
Belinda McKeon, an Irish writer whose debut novel "Solace" has earned critical acclaim, is an award-winning playwright and journalist.
Vega Quartet will perform with special guests pianist Tim Whitehead and Atlanta-based soprano Wanda Yang Temko. They will perform two pieces, "A Kite for Aibhín" (voice/string quartet) and "Arrivals" (voice/piano/violin), each named for a Heaney poem of the same name.
The event is sponsored by MARBL, Emory's Creative Writing Department, and the Hightower Fund.
The Schwartz Center for the Performing Arts is located at 1700 N. Decatur Rd., Atlanta, GA 30322. Parking is available in the Fishburne and Lowergate South decks.
Ticket information
• Tickets are required for "A Tribute to Seamus Heaney in Poetry and Song" at the Schwartz Center for the Performing Arts on Thursday, Oct. 2. Free tickets (limit 2 per person) will be available at the Schwartz Center. Box office hours are 10 a.m. to 6 p.m. Monday through Friday.
• Tickets may also be reserved online (tickets.arts.emory.edu) and by phone (404-727-5050) with a $4 per order service fee, tickets may be picked up the day of the event (or earlier) at will call.
• A limited number of tickets will also be available at four local independent bookstores: A Cappella Books, Charis Books & More, Eagle Eye Book Shop and Little Shop of Stories. Tickets (limit two per person) must be picked up in person at these locations.
---