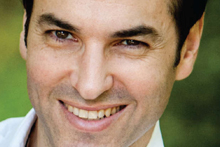 Award-winning journalist and author Eyal Press will present the inaugural lecture hosted by the James T. and Berta R. Laney Legacy in Moral Leadership. The lecture, entitled "Beautiful Souls: The Courage and Conscience of Ordinary People in Extraordinary Times," will take place on Thursday, Oct. 9, at 3 p.m. in room 252 of the Rita Anne Rollins Building. The event is free and open to the public, but registration is required. Register for the event.
Born in Jerusalem and raised in Buffalo, New York, Press developed a fascination with the intersection of morality and politics that has informed his writings on everything from the Israeli-Palestinian conflict to urban poverty.
His 2012 book, "Beautiful Souls: Saying No, Breaking Ranks and Heeding the Voice of Conscience in Dark Times," explores the factors that cause ordinary people to behave ethically, even when thrust into compromising situations. How far should a person go to keep a clean conscience? Where should the line between personal conviction and professional duty be drawn?
Press's work has appeared in The New Yorker, The New York Times, The Atlantic, The Nation, and the Raritan Review. He is a past recipient of the James Aronson Award for Social Justice Journalism.
About the James T. and Berta R. Legacy in Moral Leadership
The James T. and Berta R. Laney Legacy in Moral Leadership honors the faithful leadership of two exceptional moral leaders who are beloved in the Candler and Emory University community. The Laney Legacy supports an endowed faculty chair and related leadership development activities, including travel seminars, guest speakers, webinars and mentoring workshops. Based in Candler School of Theology, the Laney Chair in Moral Leadership provides focused instruction and mentoring for Candler students and students throughout the university community. Robert M. Franklin, Jr. is the inaugural holder of the James T. and Berta R. Laney Chair in Moral Leadership.
---