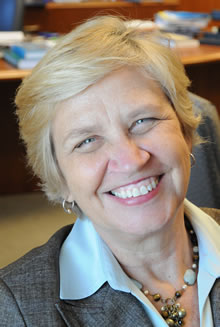 Researchers at the Nell Hodgson Woodruff School of Nursing will examine the nature of heat-related illness (HRI) in farmworker populations throughout Central Florida.  The research is supported by a $2.1 million grant from the Centers for Disease Control and Prevention's National Institute for Occupational Safety and Health and conducted in partnership with the Farmworker Association of Florida.
Led by Linda McCauley, PhD, RN, FAAN, professor and dean of Emory's Nell Hodgson Woodruff School of Nursing, the team will use advanced technological biomonitoring data to explore the relationship between the body's response to heat stress and the prevalence of HRI symptoms within the work environment.
"Although there are innumerable research studies that characterize the hazardous work environment for this vulnerable population, there are no studies that have documented the factors leading to the increased heat-related illnesses that we are seeing in this population," explains McCauley.  "Our preliminary work has already given us very valuable information that will help to thoroughly assess the nature of these heat-related illnesses."
Routine work-related exposure to environments with extreme heat and humidity put agricultural workers at greater risk of heat stress and at 20 times greater risk of heat-related deaths than the US civilian workforce.
"Escalating trends in global warming and the devastating effects that prolonged exposure have on these agricultural workers are a major occupational hazard,'" says McCauley. "Our work will provide critical, physiologically-based information that will inform the development of interventions that are necessary to decrease the risks of HRI and promote health through heat-prevention strategies in at-risk occupational populations."
---