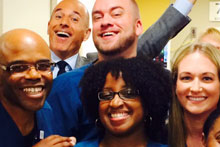 NBC TODAY reporter Matt Lauer "photobombs" the Emory nursing team that helped care for two Ebola patients at Emory University Hospital. View full image.
The Emory University Hospital team members who cared for two Ebola patients, Dr. Kent Brantly and Nancy Writebol, are featured in a series of NBC News stories this week, beginning with a live NBC TODAY show segment that aired Wednesday, Sept. 3.

NBC's Matt Lauer came to Emory to interview the Emory Healthcare team members who cared for Brantly and Writebol. Lauer secured an exclusive interview with Brantly and his wife, and also interviewed Writebol and her family.

In addition to segments on TODAY and NBC Nightly News this week, the Emory Healthcare team will be featured on an NBC News Special on Friday, Sept. 5, at 10 p.m. EST. The portions of the interviews airing on NBC Nightly News and TODAY will be available on NBCNews.com after they are broadcast.
NBC News Special: Saving Dr. Brantly
NBC News Special, Sept. 5, 2014
Former Ebola patient Nancy Writebol: 'I knew it was bad'
NBC TODAY, Sept. 4, 2014
Ebola survivor Dr. Kent Brantly: 'I'm not worried about' the virus' stigma
NBC TODAY, Sept. 3, 2014
---