The Principal Cello of the Atlanta Symphony joins Emory's quartet-in-residence on Friday, Sept. 12, for the first concert of the year in the annual Emory Chamber Music Society of Atlanta (ECMSA) - Emerson Series.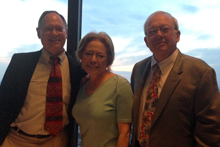 Linda and John Cooke (right), for whom the monthly concert series at the Carlos Museum has been newly renamed, join series director William Ransom (left) at an event on campus.
These concerts are held monthly at noon in the Reception Hall of the Michael C. Carlos Museum.
Christopher Rex and the Vega String Quartet will perform a unique transcription of Beethoven's "Kreutzer" Sonata for piano and violin.
A frequent performer with the ECMSA, Rex is also founder and artistic director of both the Georgian Chamber Players and the Amelia Island, Fla., Chamber Music Festival.
Formerly known as the Noontime Series, this set of concerts is newly named "The John and Linda Cooke Noontime Series" in honor of a major gift the Cookes have made to the series.
The Cookes donated to a $1 million matching challenge grant from the Katz Foundation to help keep a string quartet in residence at Emory forever.
"We are about three quarters of the way to the match, which must be met by 2016," according to William Ransom, director of ECMSA. Ransom is also Mary Emerson Professor of Piano and director of piano studies at Emory.
"This fund will also help keep the noontime concerts free to the public," he notes. "We continue to encourage everyone to donate and help us reach the goal."
While there is no special theme for this season's series, "our general theme is 'Chamber Music at its Best,'" Ransom says. 
For more information, see arts at Emory.
---