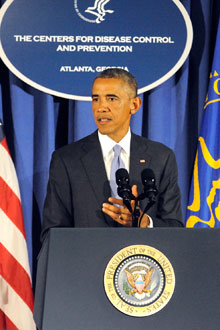 During an address at the CDC, President Obama praised Emory University Hospital's "extraordinary efforts" to care for patients with Ebola. Photo by Jack Kearse.
President Barack Obama met with Ebola experts from Emory Healthcare as part of his Sept. 16 visit to the federal Centers for Disease Control & Prevention.
Obama visited the Atlanta-based CDC for an update on the Ebola virus outbreak in West Africa and the U.S. response to it. The president met with Emory University Hospital physicians, nurses and others involved with the treatment of Ebola patients here before giving an address where he announced a significant expansion of U.S. efforts to combat the disease.
"Faced with this outbreak, the world is looking to us, the United States, and it's a responsibility that we embrace," Obama said. "We are prepared to take leadership on this, to provide the kinds of capabilities that only America has, and to mobilize the world in ways that only America can do."
The president's meetings with the Emory Healthcare team were closed to the press, but he discussed Emory's efforts in his public remarks after stressing that while "the chances of an Ebola outbreak here in the United States are extremely low," the administration is taking steps to make sure that American hospitals are prepared to identify and treat the virus.
"Here I have got to commend everybody at Emory University Hospital," Obama said. "I just had the opportunity to meet with Doctors Gartland and Ribner and members of their team and the nurses who — sorry doctors, but having been in hospitals, I know they are the ones really doing the work — and I had a chance to thank them for their extraordinary efforts in helping to provide care for the first Americans who recently contracted the disease in Africa.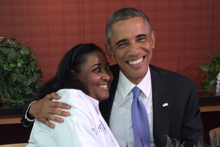 Carolyn Hill, an Emory nursing unit director, receives a hug from President Obama during his meeting with the Emory Healthcare team who cared for Ebola patients.
"The first two of those patients were released last month and continue to improve, and it's a reminder for the American people that should any cases appear in the United States, we have world-class facilities and professionals ready to respond and we have effective surveillance mechanisms in place," Obama continued.
Last month, Emory University Hospital became the first hospital in the United States to treat patients with Ebola virus disease. Bryce Gartland, vice president of operations for Emory University Hospital, and Bruce Ribner, director of Emory's Infectious Disease Unit, were among a small group of those involved with caring for the Ebola patients who met with Obama early Tuesday afternoon.
Emory's first two Ebola patients, both American citizens who became infected with the virus while providing humanitarian aid in West Africa, were cared for in a special isolation unit created in collaboration with the CDC to house CDC scientists and others exposed to infectious diseases while traveling abroad.
Dr. Kent Brantly, who arrived at Emory on Aug. 2 after being transported by air ambulance from Liberia, left Emory University Hospital on Aug. 21. Nancy Writebol arrived at Emory from Liberia on Aug. 5; she was discharged Aug. 19. The two were able to leave the hospital after Emory physicians determined, in collaboration with the CDC and state health departments, that they had recovered from Ebola virus infection and posed no public health concerns.
A third patient with Ebola arrived at Emory from West Africa on Sept. 9 and is being treated in the same isolation unit.
In his public remarks Tuesday, Obama noted that he had met with Brantly this morning in the Oval Office prior to his trip to Atlanta.
"We are incredibly grateful to him and his family for the service he has rendered to people who are a lot less lucky than all of us," the president said.
---