Atlanta patent attorney Laura Fahey Fritts MPH/MBA, JD, an alumna of Emory law school, will become director of license and patent strategy for Emory University's Office of Technology Transfer on Sept. 1. She comes to Emory from the law firm of New-York based litigation boutique Kasowitz, Benson, Torres, & Friedman, where she was a partner in the Atlanta office and a member of Kasowitz's intellectual property group. For the past 12 years, her focus was on pharmaceutical and chemical patent litigation.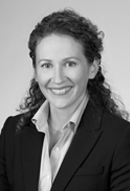 Laura Fahey Fritts
"I view my new role as helping Emory protect the inventions of, and the research and development done by, its professors and researchers, as well as assisting in monetizing those inventions," Fahey Fritts says.
Fahey Fritts will be responsible for overseeing Emory's in-house patent group as well as providing contracting advice to the licensing team, says Todd Sherer, executive director of technology transfer. "Laura's role is crucial for Emory's success with its licensees," Sherer says. "Her focus will be on keeping Emory at the table during lengthy product development life cycles as we want to maintain a productive partnership with our corporate licensees."
Her previous role as a litigator and patent attorney give her the ability to spot issues before disagreements escalate, Sherer adds. "Laura already has a very successful career and we feel fortunate to have her joining our team," he says.
Fahey Fritts was recognized as an LMG Life Sciences Star, an "Up and Coming" attorney in intellectual property by Chambers USA: America's Leading Lawyers for Business, a "Top 250 Women in IP" by Managing Intellectual Property magazine, and a Georgia "Rising Star" in IP litigation by SuperLawyers magazine.
"My work has required that I analyze patentability issues for a variety of different pharmaceutical products, including for active pharmaceutical ingredients, the synthetic route used to manufacture these ingredients, methods of treating disease, and drug formulations," she says. "It has given me a unique perspective on the value of patents in this space."
Fahey Fritts is a graduate of the University of North Carolina at Chapel Hill, where she was a chemistry major. She received her MPH/MBA from the University of Alabama at Birmingham before graduating from law school at Emory in 2002, where she was executive managing editor of the Bankruptcy Developments Journal.
"I never dreamed I'd be coming back to Emory but I'm excited, it's thrilling," says Fahey Fritts, "I remember the first time I ever came to Emory, it was in high school for a volleyball tournament, and I still remember the feeling of driving onto the campus."
---