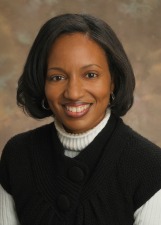 Jada Bussey-Jones, MD, FACP associate professor in the division of general medicine at Emory University School of Medicine is the recipient of the 2014 Society of General Internal Medicine National Mentorship in Education Award.  The national award recognizes the mentoring activities of general medicine educators who are actively engaged in education research and mentorship of junior clinician educators. 
"Training our next generation of clinicians is a critical part of academic medicine," says Bussey-Jones. "It is wonderful to be acknowledged for supporting faculty as they develop medical curricula, pursue careers as clinician educators, and positively impact future health professionals."
Bussey-Jones is the chief of General Medicine and Geriatrics at Grady Memorial Hospital. She received her M.D. from Emory University and after completing clinical training at the University of Maryland and a fellowship in General Internal Medicine at the University of North Carolina at Chapel Hill, Bussey-Jones joined the Emory University School of Medicine faculty in 1999.
Since coming to Grady, Bussey-Jones has been engaged in educating medical residents and students in caring for minority and economically underserved populations. She founded and leads the Social Medicine Working Group – a group of outstanding young faculty members in the division of general internal medicine dedicated to educational projects, research and community service. 
Bussey-Jones has been chair of the National Disparities Education Task Force where she led work on an award winning national curriculum and pre-course on disparities education. 
"My research and educational work centers around interventions to instruct learners in the care for diverse populations, teaching clinicians how to communicate effectively with individual patients from varied backgrounds and facilitating physician activism in local communities," Bussey-Jones explains. "The goal is to engage future doctors to consider their role in understanding and impacting broader determinants of health beyond clinical medicine including income, education, housing, and transportation to find ways to promote broader social changes that can affect health. Grady provides unparalleled opportunities to do this work." 
The Society of General Internal Medicine is a national medical society of 3,000 physicians who are the primary internal medicine faculty of every medical school and major teaching hospital in the United States. SGIM members teach medical students, residents, and fellows how to care for adult patients. They also conduct research that improves primary care, preventative measures, and treatment services for patients.
---