The Class of 2018 brings a diverse mix of students, chosen for their academic achievements and promise, community involvement and potential to both contribute to and benefit from all the university has to offer. Whether they chose to begin their Emory experience at Oxford College or at Emory, students say they were drawn by both educational excellence and the feel of the campus communities.
Meet just a few of the students who exemplify the spirit and strengths of the Class of 2018.
Deandre Miles
Cheverly, Maryland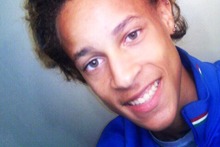 Why I chose Emory:
Thinking Atlanta might be a cool place to go to school, I applied and even wrote the extra essay to be considered for the Emory Scholars Program. To my extreme surprise, I ended up a finalist for the program. At the end of the first day of the finalists' weekend I texted my mother, "The deposit is $475. I'm coming to Emory."
Top academic passion:
"What are you going to study?" I usually respond "environmental studies," … but my other interests include ecology, English, cultural studies, etc. During my time at Emory, I plan to cultivate a liberal set of skills and experiences that will allow me to be an effective individual wherever the wind blows me (not a pun on my 6ft/130lb build). The apparent disparity between the first two classes I have enrolled in, ECON101 (Microeconomics) and PHIL117 (Nature/Environment/Sustainability), should serve as a testament to my refusal to be a "one-trick pony." At Emory, I plan to grow much as a tree does, aimlessly and certainly.
Biggest passion outside of academics:
I am willing to question everything and the root of this is a genuine passion for understanding. Over the next four years, I will have the most singular opportunity in being surrounded by a community of dynamic individuals who will be willing to ask the hard questions that polite company gracefully pirouettes around.
Proudest high school achievement:
I ended my high school career with a cumulative GPA of 4.03. To dwell on this may seem pretentious, but my academic record did not always point in a positive direction. … After a myriad of other discouraging circumstances, my graduating GPA is a testament to my resiliency.
One item I have to bring to college:
Photos of my family and friends: I have a very strong support network in my life and if ever I begin to lose track of myself in the college scene, I can just look at who I have in my corner (or more accurately, on my wall) and I will be reassured in my sense of purpose.
Haley Haas
Canton, Georgia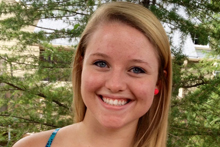 Why I chose Oxford:
By far the most profound advantage of choosing Oxford College is the unparalleled access to leadership positions as an underclassman. Oxford has reputable professors and rigorous course work that I trust will prepare me for graduate school. Furthermore, I thrive in small class sizes where I can get to know each professor personally and where the students get more attention and interaction.
Top academic passion:
I am most passionate about science. I intend to pursue a career in the medical field as a surgeon after hopefully attending Emory's School of Medicine. As a university known for its innovations in the medical field and its ties to the Emory Hospital and the CDC, Emory University is the perfect setting for a prospective pre-med student. At Oxford, I look forward to joining organizations such as ChemOx, Global Health Club and Mu Epsilon Delta (MED).
Biggest passion outside of academics:
While I have not traveled as many places as some of my Oxford peers (yet), traveling is still a passion of mine. Fortunately, I can travel both nationally and internationally at both Oxford and Emory through the numerous retreats, alternative spring breaks and (my personal favorite) study abroad!
Proudest high school achievement:
My senior project: Throughout my senior year, I researched the reasons behind the low number of women working and/or majoring in STEM fields, as well as methods to close that gender gap. I then combined my passion for science and service to present young girls in the after-school program at Knox Elementary School with informative science lessons and engaging science experiments with hopes of augmenting their interest in science.
One item I have to bring to college:
I could not start college without my Bible! Although the next four years will bring great memories and rewards, they won't come without hardships along the way, and I need both my Bible and my faith to guide me.
Zachary Denton
Atlanta, Georgia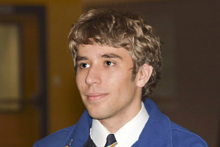 Why I chose Emory:
The Youth Theological Initiative, a summer interfaith program at Emory, first introduced me to the way Emory encourages academic exploration. Upon looking deeper, I discovered a school with opportunities to research in the liberal arts early in my career and make connections with my teachers. I saw a community that promoted personal growth over the highest percentile, a place with fascinating, vibrant traditions and arms extended to each student.
Top academic passion:
Language is an extension of myself. Born with oral apraxia, I had to overcome my own speech impediment just to learn English. Now I'm teaching myself my sixth language. I want to use Emory's language and linguistics classes to help me understand the different ways that people interact and how they express themselves.
Biggest passion outside of academics:
When I was little, everyone else wanted to be a fireman or an astronaut, but I wanted to be a professor. I have tried to keep active by tutoring in a GED program, writing and proctoring state Latin exams on classical art history, and creating my own academic website as a basis for the exams. I plan to work with Project SHINE to combine my love of languages and teaching to help people in my city.
Proudest high school achievement:
I felt like I truly made a difference while interning at my local GED program, the Centro Hispano Marista. We offered education to the Hispanic immigrants who were being turned away at other programs.
One item I have to bring to college:
Almost every summer as a kid, I visited my extended family in New Jersey and went to the shore. When Hurricane Sandy hit, most of my family was hit, too. The pictures of the roller coaster in the water came from my boardwalk, Seaside Heights. Last Christmas, one of my aunts gave me a piece of the boardwalk, my boardwalk, in a little glass case. When I visited the boardwalk this summer, I saw it being rebuilt and on its way back to its prime. I'm lucky to have this little piece of wood that symbolizes my childhood.
Sanjana Kumar
Dubai, United Arab Emirates
Why I chose Oxford:
I knew that I wanted to be part of a close-knit community that had a lot to offer for extracurricular activities. Oxford was the perfect candidate. In addition to its highly rated psychology department, what also stood out to me was the institution itself. The campus, the academic resources and opportunities available for students, as well as the very positive alumni feedback, helped in finalizing my decision.
Top academic passion:
People and the way they react with one another and society in general has always interested me. I have been actively involved in research over the last couple of years at my high school and have undertaken various studies relating to different subjects including diversity in geographical locations and the consequences thereof in people's behavior.
Biggest passion outside of academics:
I am very passionate about wildlife conservation and have been fortunate enough to pursue this passion actively. I have worked as a volunteer at a conservation project in South Africa where I looked after orphaned rhinos whose parents were killed by poachers. At Oxford and Emory, I would love to engage my fellow students in conservation efforts.
Proudest high school achievement:
Having a keen interest in psychology, I suggested that my high school introduce AP Psychology as a course as it was not offered before. The following year, AP Psychology did indeed come about and became one of the most popular courses at school.
One item I have to bring to college:
I have been pursuing photography since I was 12. I love nature, wildlife and candid photography and never go anywhere without my faithful Nikon camera. I am extremely lucky to have such a wonderful piece of equipment that has helped me capture unforgettable memories across different geographical locations.
Nellie Hernandez
Bronx, New York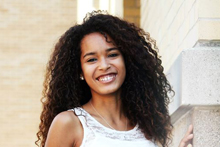 Why I chose Emory:
I wanted to be in a school big enough where every day I could meet someone new, but I didn't want a school so big where my face could easily be lost in a sea of students. I come from NYC, and I love nothing more. But Atlanta was so different from anything I could have imagined. Trees at every corner you turned, accompanied by skyscrapers? It seemed so outlandish; I loved it! Emory had me head over heels: The size and location are perfect, plus outstanding academics.
Top academic passion:
I am interested in exploring the social sciences, because I'm a curious person who loves learning about people, their relationships and what makes them tick. I specifically want to explore courses Emory offers in linguistics, psychology, international relations and sociology.
Biggest passion outside of academics:
My biggest passion outside of academics is learning and meeting people from different cultures. There is so much out there that we don't know because we do not bother to learn outside of this box we trap ourselves in. My dream is to get outside of this box through Emory's study abroad programs. Since I can take my full financial aid/Emory scholarships with me, for the first time, money will not hinder my abilities to go explore and learn outside of my comfort zone.
Proudest high school achievement:
Dance Marathon MCs are the leaders of my high school from October to March, and this year I was honored to be one of them. Dance Marathon raises money for Camp Good Days & Special Times, a camp for kids affected by cancer. This year my fellow MCs and I raised $105,000 for camp, sending 131 kids to camp for free.
One item I have to bring to college:
My pictures: I love my friends and family, and one thing we always do is just take pictures everywhere we go. I went to high school five hours away from home, and sometimes when I was feeling homesick I'd just look at the pictures and imagine what they would do if they were here with me.
Murray Skolnick
Brookline, Massachusetts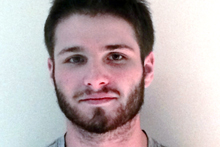 Why I chose Emory:
I was particularly impressed by the beauty of the campus and the facilities. Upon touring the math and science facilities (particularly the chemistry labs), I could see myself at home at Emory. I also was very tempted by the Georgia Tech dual degree program.
Top academic passion:
I am fascinated by chemistry and biochemistry — particularly their applications in medicine and pharmacology. Obviously Emory's close affiliation with the Centers for Disease Control and Prevention creates exciting internship opportunities unique to the school. This summer I've spent time learning about computational chemistry / biochemistry, so I am also eager to explore the applications of computer programming in chemistry. Lastly, the dual degree program with Georgia Tech will allow me to pursue my interest in Biomedical Engineering.
Biggest passion outside of academics:
I have been a violinist for 13 years. The majority of that time was spent studying classical violin at New England Conservatory Prep School, but in the last few years I also studied jazz violin at my high school. In the last two years I've explored Afro-Cuban jazz music. I am eager to join one of Emory's jazz ensembles and explore jazz violin even more.
Proudest high school achievement:
I interned at the Princeton Plasma Physics Laboratory last summer. For seven weeks, I worked as a computer programmer for a physicist. The experience that I gained during that internship was invaluable to my development as a scientist, and I still use skills I learned there today.
One item I have to bring to college:
I am planning to bring my copy of Frank Herbert's "Dune." It's my favorite book, and I'm excited to finish the rest of the "Dune" series in my spare time at Emory.
Victoria Umutoni
Kigali, Rwanda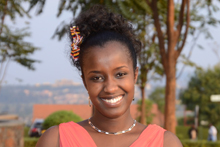 Why I chose Emory:
Bridge2 Rwanda is a gap year program which helps some of the outstanding students in Rwanda apply to international universities. My college counselor told me about Emory and I was impressed by all the interesting things it has to offer. My interest grew after I participated in the Emory Scholars Finalist Weekend.
Top academic passion:
I want to come back to Rwanda and help in the development of the health sector. That is why I intend to major in human health. Emory is among the top schools of public health. I will pursue my interest in health by being involved in health activities, discussions about health and doing internships related to the health sector.
Biggest passion outside of academics:
I am very passionate about taking care of little children and helping in their education. I taught them to read and to like to read. Unfortunately, Rwandans do not have the culture of reading a lot. I am also very interested in learning about other cultures and sharing my own culture. Emory is a very diverse community; I will have the opportunity to interact with people from all over the world.
Proudest high school achievement:
In grade 10, along with other young people and with the help of a literature club called Sembura, we started to teach small children of the neighborhood to read. We brought them together in one place. Parents were happy because now their children were using their holidays wisely. I am very proud to know that I played a role in the education of those children.
One item I have to bring to college:
Recently, I was shopping for some items to bring with me to Emory when my mom reminded me to go with our traditional clothing, "imikenyero." Rwandans wear the imikenyero on special occasions like a wedding or graduation. This clothing is our culture, our history. Bringing it to Emory, it will be the Rwandan culture I would be introducing to Emory. I am very proud of my country. I know that every time I will wear it, it will remind me of who I am, where I come from and where I want to be in the future, where I want Rwanda to be in the future.
Jubilee Park
Louisville, Kentucky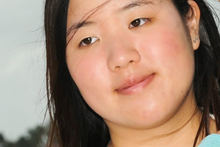 Why I chose Oxford:
I chose Oxford after visiting both Emory campuses. I liked the location of the Atlanta campus and its plethora of resources, but I also loved the diversity and close-knit feel of the Oxford campus. By choosing Oxford, I will be able to experience two engaging but different college settings. Oxford seemed to me like the best of both worlds!
Top academic passion:
Since I was young, I have had a passion about the environment. I plan to major in environmental studies in order to learn more about the environment and the complexities of environmental issues. Before I leave Emory, I want to study abroad and experience firsthand the effects of environmental problems in other parts of the world.
Biggest passion outside of academics:
Outside of academics I enjoy volunteering in the community. In high school I volunteered with several organizations through clubs like National Honor Society, Beta Club and Key Club. I want to continue to make a difference by volunteering with Circle K and the Path Project at Oxford.
Proudest high school achievement:
I was the president of the WiSE (Women in Science and Engineering) club. Our biggest accomplishment was organizing and implementing an expo at the Louisville Gas and Electric headquarters. The expo was targeted at elementary school girls, and its goal was to help them to develop an interest in the sciences (an area in which women are still very underrepresented).
One item I have to bring to college:
A must-have item for me would be an electric kettle. I am a far cry from a morning person, so having tea and coffee for the mornings will be a wonderful convenience.  And if I can't get to the dining hall, an electric kettle will be perfect for a cup of ramen!
---