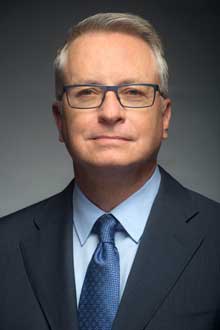 Emory University President James W. Wagner has announced the appointment of Jerry Lewis to the position of senior vice president for communications and public affairs. Lewis has served for the past seven years as vice president for communications at the University of Texas at Arlington and previously was vice president for communications at the University of Miami.
A seasoned communications professional and administrator, Lewis brings almost three decades of experience in higher education strategic communications to Emory.
"Jerry Lewis has done it all in university communications and has done it superbly well," Wagner says. "He knows firsthand the distinctive contours of a major research university with an academic health sciences and healthcare center. He is a proven team builder who values and fosters the success of colleagues and staff. And he is a thoughtful person with a vision for how to tell the Emory story effectively to our broad range of constituencies. I am delighted to welcome him to our community."
While at UT Arlington, Lewis developed a robust integrated program that brought together all facets of strategic messaging, media relations, marketing, multimedia, print and online communications, social media, issues management and institutional identity. As a member of the president's executive committee, he also was responsible for community engagement and developing priorities for strengthening government and civic relationships. UT Arlington is the second-largest institution in the University of Texas System, with 38,000 students.
Before moving to UT Arlington, Lewis served for 20 years in leadership positions at the University of Miami in Coral Gables, Florida, including chief communications officer at the Leonard M. Miller School of Medicine, and ultimately vice president and chief communications officer for the university.
"Emory has earned its place among the upper echelon of the nation's most prestigious universities. It's a venerable brand with an amazing story to tell," says Lewis. "I'm thrilled to have the opportunity to help leverage Emory's significant strengths to further advance its reputation, nurture recognition and engender support among its most important audiences."
Lewis' position is responsible for the effective coordination of communications, government relations and community engagement, both locally and nationally.
A native of Damascus, Virginia, Lewis earned his bachelor's degree in communications at Virginia Commonwealth University in Richmond, Virginia, and pursued graduate study in management and creative writing at the University of Miami. Under his leadership, the communications teams at Miami and UT Arlington received more than 300 awards from the Council for Advancement and Support of Education, the American Marketing Association, the Association of American Medical Colleges and other professional organizations.
Lewis will take office at Emory Sept. 8.
---