In a Turman Hall study room, four high school students are immersed in last-minute debate tournament preparations, feverishly checking laptop screens, comparing notes on organization and lamenting a lack of sleep.
With a good-natured greeting, Barkley Forum debate coach James Roland stops by to offer encouragement: "You look like you're smart. You sound like you're smart. Couple of people in here even have eyeglasses on, so you're definitely looking the part."
 "Affirm well," he urges one team.
 "Try to tear down their house," he advises the other.
Today's challenge is a policy debate on developing and exploring oceans  — in this case, a resolution on the viability of offshore wind energy development. For the high school and middle school students attending this year's Emory National Debate Institute (ENDI) who lack experience in policy debate, it will be a steep learning curve.
But to hear the exchange of words and wits, you'd never guess it.
For an hour and a half, the students joust with facts, research and data, which run the gamut from climate change and carbon footprints to federal policy, economic efficiencies and regulatory framework, doled out in a mile-a-minute delivery meant to squeeze the most out of their allotted time.
Everyone breathes a sigh of relief when the round is over. But Hannah Turner, a rising junior from Waco, Texas, is already critiquing herself. "It went okay," she shrugs, "but there are better questions that I could have asked."
Her debate partner, Kate Scollaro of Coconut Creek, Florida, is more forgiving: "I had organizational issues, but this was only my third policy debate," she reveals, with a shy smile. "I'll get better."
Summer debate camps boom in popularity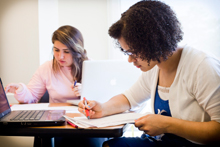 Katelin Scolaro (left), a senior at North Broward Preparatory School in Coconut Creek, Florida, and Haley Turner, a junior from Midway High School in Waco, Texas, prepare their arguments. Emory Photo/Video.
Although Emory's award-winning Barkley Forum debate program hosted high school tournaments as early as the 1950s, it was in 1965 that the program first began bringing secondary-level students to campus for the ENDI summer camps.
Today, what began as a two-week program has exploded into a summer-long series of sessions that runs non-stop throughout June and July, drawing between 300 and 400 middle school, high school and rising college students, says Williams Newnam, associate director of Forensics at Emory.
Each session brings some of the nation's finest forensic minds to the Emory campus to explore a scholastic debate topic and learn debate fundamentals, Newnam says.
"For a student to work with college debate coaches at this level is an enormous opportunity, a starting place," he adds. "For many, it's also their first experience on a college campus, so there's a connection that we build early on."
By 1985, Emory had taken a lead role in bringing debate to students who rarely had access to it, helping to found what would become the Atlanta Urban Debate League (AUDL). The program is a partnership between the Barkley Forum and the Atlanta Public Schools that offers competitive policy debate training to secondary students from socio-economically challenged and inner-city schools.
"There were basically a few teachers in the Atlanta Public School system who came to us 30 years ago and asked if we would teach debate to their students," Newnam says. "Together, what they did would become a national model."
From the beginning, Emory student debaters were involved at every step, teaching workshops and judging tournaments, even donating past trophies they had won to be repurposed for high school tournaments.
In fact, the work of Melissa Wade, Emory's Director of Forensics and the Barkley Forum, would lead to the development of what is now the Urban Debate League (UDL), a national program born in Atlanta that has introduced debate to inner-city students across the country, designed to offset inequalities in public and urban educational systems.
"There are now Urban Debate Leagues in over 500 high schools in more than 20 cities, which allows thousands of kids to debate every year," Newnam says.
Opportunity to be heard
When Emory Director of Debate Ed Lee talks about the advantages that debate affords students, it's from a first-person perspective: Lee is a product of both the AUDL and the ENDI.
His introduction to debate came when an English teacher at Atlanta's former Charles Lincoln Harper High School told the always-chatty youngster he wasn't allowed to turn in a paper for extra-credit like his classmates.
Instead, "she told me that I had to join the debate team and attend a tournament," Lee recalls. "That was my only option — and that's how I ended up debating."
As for his first debate tournament? "I lost every round," Lee says. "But there was something about the opportunity to be heard and the power of performing — being able to stand up and speak and have people listen to you and not be interrupted —that kept me going."
Lee has coached debate at Emory through the Barkley Forum since 2004. Today, he takes special pleasure in witnessing the growth of the summer ENDI. "It's awesome to see this continue, for students to have the opportunities that I did, because debate changed my life — I have no idea what I would be doing now without it," he says.
Studies support the benefits of debate, beyond the ability to simply analyze and interpret information at a rapid, in-depth level. According to independent, peer-reviewed research compiled by the Atlanta Urban Debate League:
90 percent of urban debaters graduate on time.
Each semester that a student debates, his or her grades will improve.
Debaters are more likely to test as college ready.
Urban debaters are 80 percent more likely to graduate from college.
"Several studies have examined what are referred to as student engagement measures — school attendance, discipline problems, suspensions, tardiness — and those numbers have all improved for students in the Atlanta Urban Debate League," Newnam says.
"We've also seen an increase in test scores, reading comprehension and GPA, which rises with participation," he adds.
The architecture of arguments
Back in Turman Hall, debate judge Ross Gordon has made his decision: The win goes to the team arguing against off-shore wind energy development.
But there's no high-fiving. Instead, it's Gordon who gets grilled, as students press him to critique the architecture of their arguments.
So the former Barkley Forum debater and Emory graduate, who now works fulltime for the AUDL, discusses organization and the strength of strategies.
All things considered, it was a good round with talented debaters. As the students gather laptops and timers and prepare for the next round, Rani Shagarabi pauses to explain what debate has given him.
"I've debated in the AUDL since fifth grade," says Shagarabi, a rising sophomore at Fulton County's Westlake High School. "It's engaging — helps you to think about larger issues in the world today, helps you see different sides of things, different mindsets, different ways people reach conclusions, all of which I find fascinating."
---