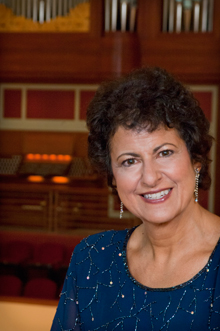 Tamara Makdad Albrecht, a longtime instructor in the Emory Department of Music and organist choir master for several Atlanta area churches, died July 15.
Albrecht, a breast cancer survivor, passed away unexpectedly Tuesday at her home in Decatur. She was 59.
She is survived by her husband Emory University Organist Timothy Albrecht, a professor of music in Emory's Laney Graduate School and professor of church music in Candler School of Theology, and a daughter, Esther Albrecht, of Ithaca, New York, who is a 2011 Emory graduate.
A visitation will be held tonight, July 17, from 6 to 8 p.m. at A.S. Turner and Sons Funeral Home in Decatur. A memorial service will take place Friday, July 18, at 2 p.m. in Glenn Memorial United Methodist Church at Emory, followed by a reception in the Ward Fellowship Hall.
Albrecht joined the Emory Department of Music in 1987, serving as an instructor in music history and recently Cannon Chapel organist and choirmaster.
She also regularly performed in chamber music ensembles and in solo and duo concerts nationally and internationally, led workshops for children's church music and classroom music, taught organ and harpsichord, and served as an active church musician, most recently at Emmanuel Lutheran Church.
In a course catalog, Albrecht once described a desire for her classes "to encourage deeper ways of listening to and thinking about music … to develop understanding of the nature of musical content, meaning and significance."
"She brought to us her passion for introducing Emory students to a greater appreciation of and willingness to explore music in all forms and its role in our lives as part of the human experience," reflects Kathy Summers, academic department administrator for the Emory music department.
Bright light in the world of sacred music
A gifted educator known for her skill in bringing people to music throughout their lifetimes — be it Kindermusik classes for preschoolers or adult church choirs — Albrecht demonstrated an unwavering commitment to her calling, says Lynn Wood Bertrand, director of graduate studies and associate professor of music history in the Emory Department of Music.
"She was a music historian by training, with degrees in organ performance, music education, and a doctorate in worship studies — a multi-faceted person and a very bright light in the world of sacred music," Bertrand says.
"Above all, she was a true teacher," she adds. "Her work touched so many lives."
In fact, as an educator, music historian, choir director and performer, Albrecht was frequently called upon to teach a variety of courses within Emory's music department, Bertrand adds.
Through Albrecht students experienced performances on historical period instruments from the 16th century, were exposed to the majesty of the organ works of J.S. Bach, analyzed excerpts from a Beethoven symphony, and viewed scenes from the 1987 opera "Nixon in China."
"Tamara Albrecht was a beloved teacher and colleague whom we all will sorely miss," says Kevin Karnes, music history professor and chair of the Emory music department. "Her energy and creativity, her caring and her patience are simply irreplaceable. Our department won't be the same without her."
A life rooted in music
Born in Pittsburgh, Pennsylvania, Albrecht demonstrated an early aptitude for music. By the age of 13, she was already playing for churches in Greensburg, Pennsylvania, her hometown.
She earned undergraduate music degrees from Wittenburg University, a master's degree in organ performance at Northwestern University, and recently, a doctorate in worship studies from the Webber Institute for Worship Studies, where she focused on conflict resolution within the church.
Albrecht met her husband, Timothy, in Central Pennsylvania — he was teaching at Lebanon Valley College and she was director of music for a church in nearby Hershey, Pennsylvania. One of her organ teachers had heard Albrecht perform in Pittsburgh and suggested the two should meet.
Together, the couple performed organ duos throughout their married life, including an "emergency" performance at their own wedding. At Emory, they frequently joined musical forces for events, including "The Bach Bowl" University Organist Recital Series.
"What many people may not know is that Tamara was often the 'second' organist behind the scenes of many Emory ceremonies and events such as graduation, where Timothy could not be everywhere at once, so together they would share those responsibilities so that each venue was covered," Bertrand notes.
As a colleague, Albrecht "was always bright and happy, always smiling, and she projected that attitude," Bertrand recalls. "She dealt with hardship by facing it head on."
When confronted with a diagnosis of breast cancer, Albrecht decided to turn her experience into an opportunity, developing "Sharing the Journey," a monologue and musical performance that she presented, along with her husband and daughter, during Breast Cancer Awareness Month to raise money for the Winship Cancer Institute's Patient Assistance Fund.
At the time, Albrecht explained: "We're not alone in the world —my journey became everybody's journey, and I took it on."
Because of parking limitations, those planning to attend Friday's memorial service at Emory are asked to use Oxford or Peavine visitor parking decks. In lieu of flowers, the family requests that contributions may be made in Tamara's memory to the Winship Cancer Institute, Emory Healthcare, Atlanta, Georgia.
---