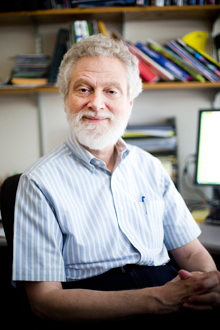 For faculty at the peak of their professional lives, retirement can loom on the horizon like a great invisible unknown — it's out there somewhere, but amid the rigors of teaching, writing and research, who has time to think about it right now?
But that can create difficult transitions down the road, "particularly at an institution like Emory where faculty are so incredibly accomplished, because one of the ways they get there is by being enormously focused upon their careers," says biology professor Gray Crouse, who has explored faculty retirement issues in his recent role as senior director of faculty affairs in the Office of the Provost.
"There are no 40-hour-a-week faculty; it's a lifestyle commitment," Crouse observes. "What that means is it becomes very difficult for faculty to envision what life could look like after retirement."
Exactly how retirement fits within the broader framework of "faculty trajectory" is of particular interest to Crouse, who this summer steps into a new role as director of the Emory University Emeritus College (EUEC), established in 2001 as an association of retired Emory faculty and staff.
Crouse has spent time surveying recently retired Emory faculty members about their expectations and experiences, and he looks forward to developing opportunities for EUEC members to find continued intellectual engagement, service and connection to the University.
Emory Report caught up with Crouse recently to visit about his vision.
As you enter this new role, what issues are high on your agenda?
Envisioning how I can foster a greater sense of belonging to the Emeritus College among its faculty, whether or not they're in the Atlanta area. There are ways that even faculty who have moved away can still be involved. I'd like to see the Emeritus College do a better job of connecting with all faculty.
Also, we'll be asking how the Emeritus College can facilitate faculty getting together, in terms of engaging with the University. Part of it involves faculty finding shared interests; I'd like to see faculty from different disciplines coming together. In the Emeritus College, traditional barriers to interdisciplinarity don't exist. Another hope is that I can get faculty feeling that this is something that they would like to support, not only with their own efforts but financially.
You've been visiting with retired faculty lately. What are you learning?
Last year I looked at a variety of organizations, such as our Emeritus College and other retired faculty organizations throughout the country. The major issue is that rather than just asking faculty what they want to do and trying to find ways that faculty can do that, I think it is important to ask where the needs are and try to respond to those needs. 
The interesting part is then how can emeritus faculty respond to those needs in creative ways that are both interesting and challenging for the faculty and responsive to the expressed need?
One of the things that I hope to do is establish stronger relationships with all of the schools within the University, helping them understand ways in which the Emeritus College might be of help and helping the Emeritus College understand what assets might be most helpful for various schools.
The Emeritus College represents an enormous resource. The accomplishments of our faculty are really astounding. In what ways can those assets be meshed with the needs of the University and the Atlanta community and the interests of our faculty?
How many EUEC faculty are we talking about? What do we know about them?
To date, we have over 600 retired faculty members who could be part of the Emeritus College. In a survey that I sent out to faculty who had retired in the last five years, I asked those members living in the Atlanta metro area about a variety of different ways they might continue engagement with the University, including lectures, teaching for-credit courses, serving on graduate or undergraduate dissertation committees, mentoring faculty or graduate students, other types of engagement with students, offering editing help, or committee work.
Over 85 percent of faculty who responded said they were interested in one or more of those activities. Many faculty are already involved in various service projects apart from the Emeritus College, but 70 percent expressed interest in working on service projects through the Emeritus College. That being said, the percentages refer only to those who responded and shouldn't be extrapolated to the entire retired faculty.
As for retired faculty living outside metro Atlanta, 25 percent of respondents indicated that they did not live close enough to Emory after retirement to participate in activities on campus. I asked those respondents if they would be interested in activities that could be done long distance — such as editing or mentoring via Skype — and 40 percent indicated that they would be interested in at least some of those activities.
What kind of ongoing educational roles could EUEC faculty assume?
In certain fields, faculty members can continue the same kind of research into retirement, such as writing books. For those of us in the sciences used to running labs or clinical facilities, once one retires, those activities are typically no longer the things we could do. There are a lot of skills, knowledge and assets that remain useful, but in different ways. That becomes an interesting challenge — how can we re-imagine ourselves?
One way that is already happening:  In our Senior Mentors program, Emeritus College members are mentoring medical students, nursing students, Physician's Assistant Program students, and students in Rehabilitation Medicine, giving these students access to the kind of individuals they will be encountering professionally.
You've mentioned the possibility of continued teaching roles for retired faculty members. Can you elaborate?
I think there's a lot of interest on both sides that hasn't been fully developed around the Osher Lifelong Learning Institute (OLLI), a program under Emory Continuing Education (ECE) aimed at adults in the community 50 and older. We've seen a few courses taught by Emeritus faculty, but I think there is the possibility of expanding that relationship.
It involves the creativity of Emory faculty saying "what could I teach based on my knowledge at a level that would be interesting to engaged members of the community who want to maintain their intellectual activity but aren't interested in enrolling in a college course?"
We're also thinking of using the Emeritus College to help faculty around campus in writing articles and books. If you look at Emeritus faculty and ask how many books and journal articles have been written, it's astounding. If you look at junior faculty, for a lot of them, success or failure will depend upon writing and publishing articles and books.
Do you see the EUEC's longstanding programs continuing?
Oh definitely. I did not want to come in and end anything. Our popular programs, such as regularly scheduled luncheon colloquiums, interdisciplinary seminars, the Sheth Lecture, and distinguished emeriti and service awards, will certainly continue.
The Emeritus College was established over 10 years ago by faculty who realized that life as a retired faculty members could be challenging and fulfilling. In fact, we are viewed across the country as one of the leaders in being an organization of faculty who continue to do what they do best. While there are lots of things that the Emeritus College has done very well, it seems there are possibilities that could yet be developed and explored. That definitely sparks my interest.
---