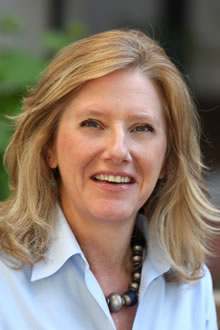 Elizabeth Downes, DNP, RN, FAANP, associate clinical professor at the Nell Hodgson Woodruff School of Nursing at Emory University, will be inducted as Fellow in the National League for Nursing's Academy of Nursing Education. She joins the academy's 169 Fellows representing nursing schools and programs throughout the United States. The induction ceremony will take place in September.  
As a newly named Fellow, Downes is recognized for her innovative teaching and learning strategies; nursing education research; faculty development; academic leadership; promotion of public policy that advances nursing education; and collaborative educational, practice and community partnerships. 
"Dr. Downes is most deserving of this noteworthy title," says Linda McCauley, PhD, RN, FAAN, dean of Emory's Nell Hodgson Woodruff School of Nursing. "The ideals of the National League for Nursing's Academy of Nursing Education are consistent with her well-established commitment to nursing education and practice."
The NLN established the Academy of Nursing Education in 2007 to foster excellence in nursing education by recognizing and capitalizing on the wisdom of nurse educators who have made sustained and significant contributions to nursing education. Fellows provide visionary leadership in nursing education and in the Academy of Nursing Education and support the vision of the NLN to promote standards of excellence in nursing education that will increase the number of graduates from all types of nursing programs. Fellows serve as important role models and resources for new educators and for those who aspire to become nurse educators.
"The National League for Nursing relies on these accomplished individuals as allies in our efforts to prepare the numbers of excellent nurse educators we need if we are to eliminate the shortage of nurses plaguing America's health care institutions," says Beverly A. Malone, PhD, RN, CEO, National League for Nursing. 
Downes has more than 25 years of international nursing experience. She has worked in more than a dozen countries including Ethiopia, Fiji, Liberia, the Bahamas, Mozambique and Zimbabwe. A Family Nurse Practitioner, Certified Nurse Educator and Clinical Scholar with approximately 15 years of experience teaching in the Nell Hodgson Woodruff School of Nursing, Downes also worked within the World Health Organization as professional staff. She maintains her advanced practice certification with over 20 years experience through practice as a Family Nurse Practitioner in the CVS Minute Clinics as well as with refugees in Clarkston, and with migrant farm workers in Moultrie, Georgia.
She was recently named co-coordinator of Emory's Family Nurse Practitioner program, which is ranked No. 21 by U.S. News & World Report. She is also consultant to the Carter Center Mental Health Program in Liberia. In 2012, she was named a Fellow of the American Academy of Nurse Practitioners. 
---