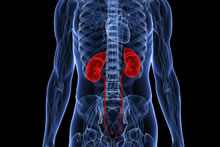 Rates of kidney transplants vary considerably across geographic areas of the United States, with the highest rates in the Northeast and the lowest in the Southeast, despite the Southeast's high rates of end-stage renal disease and greatest need for organs.

In a study published in the American Journal of Transplantation, researchers analyzed data on kidney transplants as reported by dialysis facilities to the Centers for Medicare and Medicaid Services between 2007 and 2010. Four-year average standardized transplant ratios (STRs) ranged from .69 in Network 6 (Southeast) to 1.61 in Network 1 (New England). STRs represent the number of observed transplants to the number of transplants expected based on the number of end stage renal disease patients in the dialysis facility. 

"A variety of factors contributed to this disparity," says Rachel Patzer, PhD, MPH, lead author of the study and an assistant professor of surgery at Emory University School of Medicine. "Understanding the modifiable factors should help us develop better interventions to improve access to transplantation."

In the study, lower STR was associated with for-profit status of dialysis facilities, facilities with a higher percentage of African-American patients, patients with no health insurance and patients with diabetes. Higher STR was associated with more facility staff members, more area transplant centers, a higher percentage of employed patients, and more patients who used peritoneal dialysis rather than hemodialysis. 

Study co-authors were Stephen Pastan, MD, associate professor of medicine (nephrology), Emory University School of Medicine; graduate student Laura Plantinga (epidemiology), and Jenna Krisher, executive director of the Southeastern Kidney Council.

In an accompanying Viewpoint article in the journal, Patzer and Pastan outline barriers that contribute to regional disparities, and possible solutions.

Because dialysis facilities play an important role in overall patient care, transplant access and referrals for transplant, it is important to identify geographic differences and characteristics of individual dialysis units that have the lowest rates of kidney transplantation, say the authors. This could help focus efforts on these facilities for quality improvement initiatives and increases in funding for health care resources in proportion to kidney disease incidence. Policies that improve access to care, such as the affordable care act, could also decrease the need for transplant and help alleviate geographic disparities, the authors state.

"Focusing interventions, including increased provider and patient education, among dialysis facilities with the lowest transplant rates within the Southeast has the potential to increase referrals for kidney transplantation, leading to higher rates of kidney transplants in this region," says Patzer.
References:
Dialysis Facility and Network Factors Associated With Low Kidney Transplantation Rates Among United States Dialysis Facilities

http://onlinelibrary.wiley.com/doi/10.1111/ajt.12749/abstract

Kidney Transplant Access in the Southeast: View from the Bottom
http://onlinelibrary.wiley.com/doi/10.1111/ajt.12748/abstract
---