A special concert and an annual festival mean chamber music flows from the museum to the mountains in June.
The first ever June Noontime Concert at the Michael C. Carlos Museum is Thursday, June 5, in the museum's Reception Hall.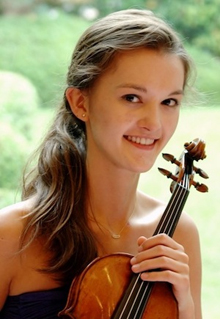 Margeaux Maloney
Native Atlantan and violinist Margeaux Maloney will perform the music of Strauss and Stravinsky with pianist William Ransom. Ransom is director of piano studies at Emory and director of the Emory Chamber Music Society of Atlanta.  Maloney is a recent graduate of The Julliard School.
Maloney, a family friend of Ransom's, asked him to perform at a senior recital in her hometown celebrating her graduation. He arranged for the concert to be held at the Carlos.
"The concert is a nice opportunity to hear chamber music in June," says Ransom.
Ransom also notes that if there is sufficient audience interest in this concert, he may add a June date to the noontime Carlos chamber series. That series ends in May each year and resumes in September for the next academic year.
The concert is presented by the Emory Chamber Music Society of Atlanta. All ECMSA concerts are free, but contributions are encouraged towards the Katz Foundation's matching challenge grant to keep a string quartet in residence at Emory and in Atlanta on a permanent basis.
Highlands-Cashiers Chamber Music Festival
More chamber music from Emory performers is set for late this month when the Highlands-Cashiers Chamber Festival begins June 27. The 33rd annual event runs through Aug. 3.
Ransom, who is artistic director, will perform as well as Emory's quartet-in-residence, the Vega String Quartet; Gary Motley, director of jazz studies; Elena Cholakova, teaching affiliate in the Emory music department; and Bradley Howard, director of vocal studies.
"An Evening with Emory Music" is set for July 11. Alumni, parents and friends can enjoy a concert by Ransom, the Vega String Quartet and cellist Edward Arron at the Highlands Performing Arts Center, followed by an alumni dinner with the artists at the home of Ruth and Paul McLarty '63C '66L.
During the festival, a mini-series of classes is offered by Emory faculty including "The Musical Brain: Lives of Musical Prodigies" (June 28) by Paul Lennard, professor of neuroscience ; "The Three Bs: Bach, Beethoven and Brubeck" (July 19) by Stephen Crist, professor of music; and "Science and Art: Closer than You Think" (Aug. 2) by Sidney Perkowitz, Candler Professor Emeritus of Physics.
---