It's lunchtime at the 1599 Building, and deep within a narrow first-floor warming kitchen, something is definitely cooking.
To the infectious hip-hop rhythms of "Dem Jeans," by Chingy and Jermaine Dupri, two rows of Emory employees are stepping and gliding, twisting and giggling. Together, they chant their moves out loud: "Heel toe, heel toe, heel toe out, heel toe out, step dip, step dip … wiggle it!"
Line dancing is exactly what it sounds like: lines of dancers following relatively simple, repetitive step patterns in unison throughout a song. But this is urban line dancing — also called soul line dancing and R & B line dancing — and it's a far, funky cry from its rural country cousin.
From retirement communities to churches, community centers to university lunchrooms, it's growing in popularity as a source of fun and low-impact fitness. In fact, in recent years Atlanta has emerged as a hub for one of the largest line dance conferences in the Southeast.
For the past year, line dancing has also become the focus of a do-it-yourself noon-hour fitness routine for a handful of Emory employees who choose to move over their lunch breaks.
Dubbing themselves "The 1599 Line Dancers," they're recognizable to many from the line dance demonstrations they led at this year's Emory Staff Fest.
Making a space for fitness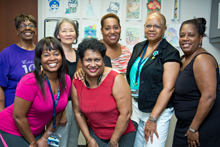 Participants in the 1599 Line Dancers say they have lost weight and gained friends during their 30-minute dance sessions. Emory Photo/Video.
Their dance floor is a long, narrow kitchen — at first glance, impossibly small. But participants make it work, meeting three days a week to get their fitness groove on.
They have it down to a routine: The first person to arrive collapses the folding table and rolls chairs into the hallway, opens the cupboards and produces two small fans. On this day, that's Sandra Smith, who's nearing retirement from Library and Information Technology Services.
Smith is also a Zumba regular at the Blomeyer Fitness Center, but finds this opportunity too convenient to pass up: "It's just so much fun," she says.
The party really begins with the arrival of Pam Johnson, an applications developer for Library and University Technology Services/PeopleSoft Human Resources, resident line dancing queen and the Pied Piper of this dance group.
"I used to eat large meals or spend time talking with friends at lunch," Johnson says. "I knew there must be a better use of my time. So I said, 'I wonder if anybody would want to dance with me?'"
Turns out, there were plenty who did.
Finding a fresh start, midday
As quickly as Johnson can plug her iPhone into a speaker, they're ready to go. Today the group numbers eight women (though men are certainly welcome) who range in age from 30s to 60s and come from diverse occupations, backgrounds and ethnicities.
Johnson apologizes in advance for song lyrics that may offend. But once the dancers get going, lyrics are background noise, secondary to the music, the footwork and the company.
Together, they move and laugh for half an hour — Johnson sets a timer to signal the cool-down. But behind the catchy tunes — zydeco, Latin salsa, hip-hop and soul — and the camaraderie is also an aerobic benefit. Besides weight loss, several participants have reduced their medications.
Faces are flushed and glowing and participants have squeezed in 30 minutes of movement into a day at the office that, for most, is largely sedentary.
"I sit at a computer all day," says Judy Phillip, a senior administrative assistant with the Institute of Developing Nations. "This gives me a fresh start in the middle of the day. I'll go back to my desk and feel like I did first thing in the morning."
Ing Dye, a lead applications developer and analyst for HR Technical Services, blushingly admits that the exercise has helped her lose nine pounds in the last six months: "You know how Emory says we need to 'Know Your Numbers?' I say, 'Know Your Line Steps!'" she jokes.
Burning calories through laughter
Though Johnson loves to dance — she did attend Northside (renamed North Atlanta) High School of the Performing Arts — she insists that she's no prodigy.
"I was born with club feet; they were both turned out, so I wore braces on my feet as an infant," she explains. "Last year, I went to an orthopedic surgeon to find out why I couldn't stay up on my toes. He looked at my feet and said, 'Structurally, you don't have the bones for it. You just need to be glad you're dancing.'"
She discovered line dancing through classes offered at a church, which led to classes in Chicago stepping and Detroit urban ballroom dance through One Step Above, an Atlanta-based dance instruction group.
Johnson's busy exercise schedule includes community line dancing outside of work. She's even coordinated field trips for the 1599 Line Dancers to join her and learn new steps. Now, others are asking her to lead dances for special events and family reunions — she was even asked to lead a line dance once during a meeting to help energize the room.
"Line dancing was just something that I could do — it gets your heart-rate up and keeps my metabolism going during the day," says Johnson, who has lost 90 pounds since 2006 — 40 pounds in the last year alone.
"And we laugh at ourselves so much, I know we're burning calories with laughter, too," she notes.
After Johnson secured a space to lead lunch-hour line dancing, she sent out an email inviting co-workers to join her. Sessions are free, offered Tuesdays, Wednesdays and Thursdays, and as rigorous as participants choose.
"I appreciate the fact that they (Emory administrators) allow this to happen," she says. "I know team members who run or golf before or after work. I've found the thing for me that is exercise but doesn't feel like it.
"I'm not the best dancer in the room — I'm here to burn calories and move," she adds. "And if no one comes, I'm dancing anyway."
(For information on how to join the 1599 Line Dancers or starting an after-work line dancing class, contact Johnson at pamela.g.johnson@emory.edu)
---