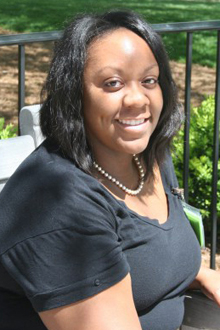 The "Know Your Numbers" health screenings held earlier this year at Emory University and Emory Healthcare provided more than 7,700 employees with important information about their health. The screenings, which measured key biometric numbers including blood pressure, cholesterol, glucose and body mass index, also served as a springboard to action for many employees.
"We were very pleased with this year's screenings, not only with high participation numbers, but also with high satisfaction results," says Michael Staufacker, director of health management. "Our exit surveys show that 99 percent were satisfied with their experience, but more importantly, 93 percent reported increased knowledge and motivation to take action to improve their health."
When LaDawn Thomas, an employee with the School of Medicine's Department of Anesthesiology, attended her health screening, she learned that she had gained 25 pounds in just one year. The knowledge served as a wake-up call, and she knew she needed to make some lifestyle changes.
"The health screening really provided me with a true picture of how much weight I'd gained," she says. "I knew I needed to put together a game plan to get back on the right path."
Thomas immediately signed up for free nutrition coaching with a registered dietitian through the health and wellness resources offered by Emory's Faculty Staff Assistance Program. Realizing she would need extra support, she also asked a co-worker to serve as her buddy and accountability partner.
She began eating healthier and exercising on a consistent basis, focusing on persistence rather than perfection. Through her hard work, Thomas says she has seen significant weight loss (18 pounds so far), increased flexibility and improved blood pressure, not to mention a huge boost in her self-esteem.
Staufacker describes Thomas as an "excellent example" of how health screenings can help improve employees' health.
"One of the reasons we offer these screenings is to build awareness with employees about their health and how their lifestyle choices can make a big impact. Each of the 2014 screening participants received a handout which listed all of the health resources that are available to them," he says. "LaDawn is an excellent example of just one employee who took the knowledge she gained from her health screening and the resources that were available to her to make a significant difference in her health."
Health insurance incentives
Summit Health, the third party vendor that conducted Emory's health screenings at over 80 locations in 2014, summarized the screening data in an aggregate report (refer to chart for 2014 findings).
Those who missed the onsite screenings still have options to participate. Employees can receive a screening at their physician's office or they can make an appointment with Emory Healthcare's Employee Health Services. For more details on these options, visit the Health Screening website.
By participating in both a health screening and an online health assessment by Nov. 15, 2014, employees covered under an Emory medical plan can earn a $200 incentive. Spouses and same-sex domestic partners who complete both can earn a $100 incentive. It takes about four to six weeks to process incentives.
The chart below illustrates the primary findings: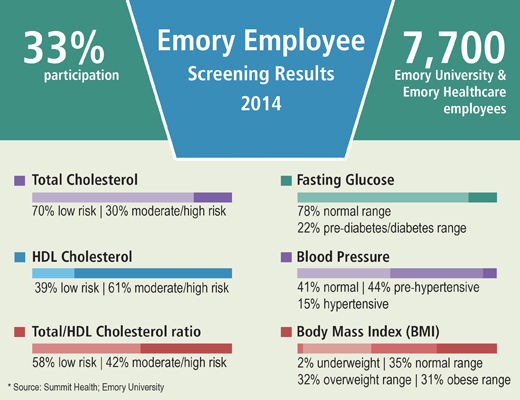 Graphic by Erica R. Ervin
---