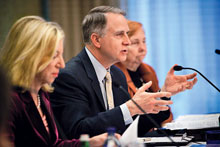 At what point should patients with Alzheimer's disease be able to consent to participate in clinical trials? Is it ethical to use technologies that not only "fix" the brain but also alter personality? Can neuroscience help us determine the basis of free will and the capacity to choose between right and wrong?
With the explosion of neuroscience research data, how much privacy should we expect? Could brain research lead to enhancements that result in brain-based rankings and discrimination? Are scientists ethically responsible for the outcomes of their research?
These were among the ethical questions discussed and debated by a distinguished group of scholars and scientists who convened at Emory on June 9-10 for the 17th meeting of the Presidential Commission for the Study of Bioethical Issues. The Commission is charged by President Obama with developing recommendations on neuroscience and related ethical issues because of the new federally sponsored BRAIN Initiative: Brain Research through Advancing Innovative Neurotechnologies.
Obama asked the Bioethics commission "to engage with the scientific community and other stakeholders, including the general public, to identify proactively a set of core ethical standards — both to guide neuroscience research and to address some of the ethical dilemmas that may be raised by the application of neuroscience research findings."
Emory President James Wagner has served as vice chair of the Bioethics Commission, along with chair Amy Gutmann, president of the University of Pennsylvania, since President Obama established it in 2009.
The commission is an advisory panel of the nation's leaders in medicine, science, ethics, religion, law and engineering. It advises the president on ethical issues arising from advances in biomedicine and promotes practices that ensure that research, health care and technological innovation are conducted ethically.
In May, the Commission published Volume I of Gray Matters: Integrative Approaches for Neuroscience, Ethics, and Society as the first of a two-part response to the president's request. Results from the June meeting at Emory will serve as the basis for the upcoming Gray Matters Volume II.
Defining 'informed consent'
There was widespread agreement by scientists at the meeting that ethical considerations should be a primary and proactive focus of any neuroscience research project.
Debate followed on the concept of "diminished capacity," with questions about the ability of patients with traumatic brain injury, Alzheimer's, Parkinson's and other neurological diseases to consent to participate in research studies. Should proxies or guardians be allowed to consent for the patient? Should consent only be given during the early stages of disease, and does it matter if the brain undergoes changes later?
Suggestions included a repository where people can decide their preferred level of consent for various procedures or clinical studies, or advanced directives for clinical trials that are similar to advanced directives for organ donation or end-of-life decisions.
David Wright, director of emergency neurosciences in Emory's Department of Emergency Medicine, described the clinical trial he led on progesterone and traumatic brain injury and the need to conduct community education for Exception from Informed Consent — an FDA regulation that allows clinical trials to be conducted in emergency settings in which patients are critically ill but have no capacity to provide consent.
A consistent theme of the meeting was the need for balance between opportunity for medical advancement and potential harm to patients. The scientists urged caution considering some historical lapses in clinical trials ethics. They also urged research to help further define the stages of diminished capacity and to consider the societal implications of neuroscience advances.
The Bioethics Commission website includes presentation materials from the Emory meeting and a blog with meeting summaries.
---