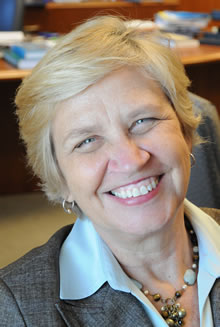 The Institute of Medicine (IOM) has appointed Linda McCauley, PhD, RN, FAAN, dean of Emory University's Nell Hodgson Woodruff School of Nursing, as a member of its Membership Committee and as vice chair of Section 10.
According to the IOM, the Membership Committee is responsible for planning the policies and procedures for election to the IOM and for preparing the final ballot of candidates. Membership committee members also serve as section liaisons to the IOM staff and to the National Research Council Report Review Committee. New members are elected to the IOM through a highly selective process which recognizes people who have made extraordinary contributions to the advancement of medical sciences, health care and public health.
 "I am honored and humbled to serve the IOM in this capacity," says McCauley. "The Membership Committee's efforts are crucial to ensuring the brightest clinicians and scientists are selected to advise the nation, improve health care, and blaze paths for innovative, high-quality research for better health outcomes for all Americans."
McCauley has been a member of the Institute of Medicine since 2008. She began her tenure as Dean of the Nell Hodgson Woodruff School of Nursing at Emory University in May 2009. She is a national leader in the area of research on environmental exposures and conducts interdisciplinary research using participatory research models to study pesticide exposures among minority communities. Her work aims to identify culturally appropriate interventions to decrease the impact of environmental and occupational health hazards in vulnerable populations, including workers and young children.
Established in 1970 by the National Academy of Sciences, the IOM is recognized as a national resource for independent, scientifically informed analysis and recommendations on health issues. The IOM is unique in its structure as both an honorific membership organization and an advisory organization. With their election, members make a commitment to volunteer their service as members of IOM committees, boards, and other activities.
---