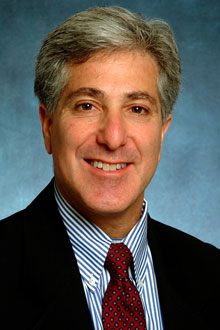 Emory's Alzheimer's Disease Research Center has been awarded a five-year, $7.2 million grant from the National Institute on Aging, part of the National Institutes of Health, to discover proteins altered by Alzheimer's, in an effort to identify new therapeutic targets.
The project is part of research driven by the National Alzheimer's Project Act, which called for accelerating research efforts to identify the earliest stages of Alzheimer's disease and to develop and test targets for intervention.
Much research on Alzheimer's has focused on two proteins that accumulate in the brains of people with the disease - beta-amyloid and tau – without yielding a single effective therapy. The Emory-led project takes an approach that goes beyond the usual suspects. Researchers plan to use advanced mass spectrometry technology to examine brain tissues compiled through several national studies of aging. They will use analytical tools that can identify thousands of proteins and determine which ones play central roles in disease development.
"We have developed a proteomics strategy that will allow us to discover the hundreds or thousands of protein changes that occur in the very first stages of Alzheimer's disease," says principal investigator Allan Levey, MD, PhD, chair of the Department of Neurology at Emory University School of Medicine and director of Emory's Alzheimer's Disease Research Center. "Working with great collaborators from around the country and applying a systems biology approach, we will be able to pinpoint those proteins which are most central to the network of complex changes in the brain, which ones are most likely to first trigger the disease years before the onset of any symptoms, and hence, which ones are the most promising new targets for developing preventive therapies." 
Research advances over the past several years have proven that Alzheimer's disease is more complicated than previously realized, Levey says. Possibly hundreds of genes each contribute in a small way to an individual's risk of developing the disease and interact with lifestyle and environmental factors.  All of these risk factors ultimately converge at the level of proteins to directly cause the progressive brain degeneration, pathologies, and dementia that are the hallmarks of Alzheimer's disease. 
Emory will lead a group including five additional Alzheimer's Disease Research Centers at Rush University, UCLA, University of Washington, University of Pennsylvania and Johns Hopkins. The project, a component of the National Institutes of Health's Accelerating Medicines Partnership, is supported as part of the $129.5 million in funding for Alzheimer's coming from both the NIH and industry partners.
The first goal of the project will be to identify proteins that are altered at early stages when people have Alzheimer's pathology but are asymptomatic. The project will then validate candidate protein targets in independent patient groups and conduct experiments to establish links between the selected proteins and disease pathology and cognitive changes.
"As proof of concept for this ambitious study, we demonstrated that using our unbiased proteomics approach, we've been able to show that one novel change in Alzheimer's disease involves proteins linked to RNA splicing and processing," Levey says. "This was a previously unappreciated marker for Alzheimer's pathology that appears to be present at early stages. It has given us a glimpse of what's possible by taking this type of approach, and we are eager to collaborate with leading ADRCs to expand this effort to be truly comprehensive and hopefully leading to a new generation of more effective therapies."
---