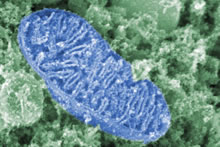 First approved by the FDA in the 1970s, the chemotherapy drug cisplatin and its relative carboplatin remain mainstays of treatment for lung, head and neck, testicular and ovarian cancer. However, cisplatin's use is limited by its toxicity to the kidneys, ears and sensory nerves. In fact, cisplatin became known as "cisflatten" in the 1970s and 1980s because of its nausea-inducing side effects.
Paul Doetsch's lab at Winship Cancer Institute has made some surprising discoveries about cisplatin, which may make it possible to target it more specifically to cancer cells and/or reduce its toxicity.
Cisplatin is an old-school chemotherapy drug, in the sense that it's a DNA-damaging agent with a simple structure. It doesn't target cancer cells in some special way, it just grabs DNA with its metallic arms and holds on, forming crosslinks between DNA strands.
But how cisplatin kills cells is more complicated. Along with the direct effects of DNA damage, cisplatin unleashes a storm of reactive oxygen species.
"We wanted to know whether the reactive oxygen species induced by cisplatin had a driving role in cell death or was more of a byproduct," says postdoc Rossella Marullo, who is the first author of a recent paper with Doestch in PLOS One.
"We've relied on cisplatin's efficacy for decades, without fully understanding the mechanism," says radiation oncologist Jonathan Beitler. "With this new knowledge, it may be possible to manipulate cisplatin's action so it is more effective and less toxic."
Full Story >>
---