In a television interview early this year, ABC news anchor Elizabeth Vargas talked candidly about her recovery from alcoholism. Before seeking treatment last fall, Vargas drank as many as three to four glasses of wine a night to cope with the panic attacks that have plagued her since childhood, starting when her father went away to serve in Vietnam.
How Vargas came to depend on alcohol later in life is a compelling question for Michael Windle, professor of behavioral sciences and health education at Rollins School of Public Health. Her childhood anxiety is a telltale sign.
Vargas fits the profile of the women and men whom Windle has studied throughout his career. As his research shows, alcohol abuse and dependence often are intertwined with other difficulties, such as anxiety and depression. In many cases, such emotion-based factors can be traced back to experiences from childhood and adolescence.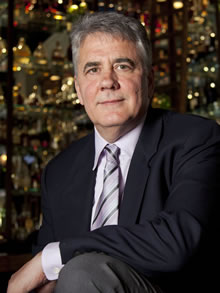 Michael Windle, professor of behavioral sciences and health education at Emory
In a 23-year study known as "Lives Across Time: A Prospective Study of Adolescent and Adult Development" (LAT), Windle followed more than 1,200 people from adolescence through young adulthood to examine stability and changes in drinking behaviors and mental health. The study began in 1988, when the participants were 15. At the last data collection, they were 38.
Windle undertook the study as a young developmental psychologist at the University at Buffalo Research Institute on Addictions, with funding from the National Institute on Alcohol Abuse and Alcoholism (NIAAA).
For the initial two years of the award, Windle and his research team surveyed teens every six months to look at changes in their behavior patterns, including alcohol use, and the factors that caused those changes. Why did some teens drink heavily and use drugs throughout high school, while others experimented briefly or not at all? What factors put them at risk or protected them? And were there differences for boys and girls?
"A lot of adolescents experiment with alcohol and drugs," says Windle, who chaired Rollins' Department of Behavioral Sciences and Health Education for six years. "Some of them will use these substances long term, and others will stop. The larger question is how do we change those patterns over time, knowing that not everyone changes in the same way or at the same time?"
Windle expected his study would last no more than three or four years. But as he delved deeper into why teenagers drink, he began to wonder how those in his study would fare as adults. That led to subsequent grants from NIAAA to follow the teens and their parents for 18 more years. In a sense, the study participants became an extended family for Windle and his wife and longtime collaborator, Rebecca.
"We got caught up in it," she says of the initial study phase. "NIAAA strongly recommended that we follow the adolescents into young adulthood and include their parents. With that, the research evolved into a long-term family study."
As the researchers followed the teenagers through young adulthood, key patterns emerged. For one, they discerned that alcohol use, abuse, and dependence were highest for men and women in their mid-20s. After that, the trend declined. Windle's findings, and those of other experts, have changed perceptions about alcohol abuse and dependence. NIAAA, in fact, now views alcohol disorders within a developmental framework rather than as a medical disease.
"When I started doing studies in this area, the national perception of an alcoholic was that of a 40-something blue-collar white male sleeping in the gutter," says Windle. "My studies and others have shown that alcohol dependency is highest for men and women between ages 23 and 27. That makes a world of difference in terms of treatment and prevention—what you should be doing and when."
---