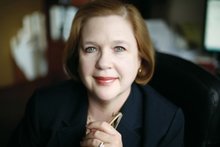 Nancye Feistritzer, DNP, RN, has been named vice president, patient care services and chief nursing officer for Emory University Hospital. She will join the Emory team on July 7, 2014.
Feistritzer, who has extensive executive nursing experience in an academic medical center setting, comes to Emory from Vanderbilt University Hospital, where she worked for 20 years, most recently as associate hospital director and associate chief nursing officer of the Surgical Patient Care Center. There, Feistritzer played an integral role in quality and safety improvements, such as improving hand hygiene compliance to 95 percent in a two-year initiative.
She served as the executive leader for design, development and opening of several new operating room suites, and developed a five-year operating room capacity plan. She has also collaborated with numerous multidisciplinary groups to deliver patient- and family-centered care, enhance team effectiveness and physician relations, improve employee engagement, implement cost containment strategies and increase operational excellence.
"We are thrilled to have Nancye join our staff and team of nurses at Emory University Hospital," says Susan Grant, chief nursing executive for Emory Healthcare. "Her extraordinary background in quality and safety improvements, hospital expansion planning, multidisciplinary collaboration and employee engagement will benefit our organization in many ways as we continue our journey to nursing excellence."
Feistritzer holds a bachelor of science in nursing from Western Kentucky University, a master of science in nursing administration from George Mason University and a doctorate in nursing practice from Vanderbilt University.
Feistritzer succeeds long-time employee and Chief Nursing Officer Becky Provine, MN, RN, NEA-BC, who passed away in Nov. 2013.
In January of this year, Emory University Hospital was granted Magnet recognition as a reflection of its nursing professionalism, teamwork and quality in patient care. Magnet recognition is granted by the American Nurses Credentialing Center's (ANCC) Magnet Recognition Program, which ensures that rigorous standards for nursing excellence are met.
---