The Learning Commons on level 2 of Emory's Robert W. Woodruff Library will get a new look this summer, with an emphasis on group collaboration and mobile device use.
The renovation project, called Next Generation Learning Commons, will include comfortable and flexible furniture to encourage collaboration, a reduction in fixed workstations to make room for more mobile device-friendly areas, and an increase in seating and power sources.
This summer, Level 2 is the first project area to be renovated. The Learning Commons areas of levels 1 and 3, plus the workstations in the Music and Media Library on the 4th floor at the front of the library, will be renovated in future phases.
"We're looking forward to the new look," says Kendra Skellen, library service desk manager. "I think students and patrons are going to like what they find when they return in the fall."
Flexible furniture, more power sources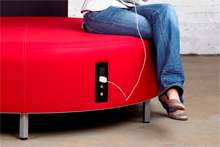 The library has purchased soft seating that will have built-in power outlets. Photo courtesy Sparkeology.
The furniture will be updated with brightly colored movable tables, chairs, ottomans and other pieces designed to foster collaboration and group study. The renovation will increase the number of seats from 250 to 300, and all will have power outlets built in so students can plug in their devices wherever they sit, Skellen says.
Goizueta Business Library's career center, currently across from the business library, will be moved next to it, and the area will be redesigned for group study, with flexible furniture and movable whiteboards, as well as a new exhibit space. Banquette seating, similar to that along the glass wall in the business library, will line the curved window along the west side of the library.
The reference collection, currently across from the service desk, will be moved to an area next to the spiral staircase. Soft seating more suitable for group study will take its place.
With the emphasis on collaboration, noise might become an issue, but Skellen says most students are aware that levels 1 and 2 are the floors conducive to discussion and group work; level 3, the stack tower levels and the Matheson Reading Room are the locations for quiet study, she says.
"With levels 1 and 2, there will always be some noise — those are the areas that are set up to accommodate the groups," Skellen says. "We still encourage them to keep the noise level at a minimum."
Fewer workstations, more room for BYOD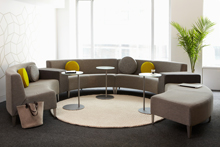 The curved furniture purchased for the library's Level 2 is designed to foster collaboration. Photo courtesy Coalesse.
Woodruff Library has 180 public-use workstations in its Learning Commons across four floors. But workstation usage has declined in the last several years. For example, logins dropped from 112,665 in spring 2011 to 87,967 in fall 2013, a decrease of 22 percent.
The decrease is due largely to an increase in the move to BYOD (Bring Your Own Device), which requires more access to power outlets.
"If you had come in the weeks during exams, you would have seen a lot of the workstations pushed aside and laptops set up," Skellen says. "But we'll still be able to accommodate those patrons who need computers with what we have."
There are 82 workstations on level 2 currently. When the renovation is finished near the end of summer, there will be 48 new workstations, grouped together near the service desk.
Reserving group study rooms online
The two group study rooms on level 2, located at each end of the curved windows, will be updated as well. Room 212 will receive new furniture and aging technology will be removed to change it into a general group study room. Room 213 will be upgraded with technology that will enable students to record themselves practicing or giving a presentation, says Tony Shiver, manager of UTS student services, who has been coordinator of the Computing Center at Cox Hall for nearly 10 years. Students will also be able to conduct a video or audio conference, a frequently requested capability for a class assignment or to defend a dissertation.
"This is addressing a need that students have been asking about for many years," Shiver says. "They ask about it all the time."
In addition, starting June 2, students will be able to use Office 365 to reserve any group study room in the library, up to 14 days in advance. Previously, students had to reserve a group study room in person, with three members of the group present, and could reserve a room only one day in advance. With the new system, they will be able to create a meeting in Office 365, invite other people, and reserve a group study room, Shiver says.
"This is one of those things that I think students are going to be very excited about," he says. "And they will know right away if the room is available."
---