Gathering in a spirit of competition and camaraderie, nearly 3,000 athletes, coaches and their supporters will arrive at Emory this weekend for the 2014 Special Olympics Georgia Summer Games.
The event is expected to draw one of the largest turnouts in Georgia Special Olympics summer games history, due in part to recent additions of flag football and speedwalking to the lineup of athletic events, says Special Olympics spokesperson Wendy Bigham.
"We believe that this is on track to be the largest state games that we've ever hosted," Bigham says. "And we're just so excited to be able to hold them on such a beautiful campus."
The games kick off with opening ceremonies at McDonough Field on Friday, May 30, at 7:30 p.m., which includes the symbolic lighting of the "Flame of Hope" — the culmination of a Law Enforcement Torch Run that raises money for Special Olympics Georgia.
The opening ceremony will be followed immediately by a dance for athletes, with sporting events running at Emory venues through Sunday, June 1.
Special Olympics events are free and open to the public, and the Emory community is invited to come out and watch. "There are events going on throughout the weekend, and we would love as many fans in the stands as possible," says Sherry Ebrahimi, director of university conferences at Emory.
The annual games mark a longstanding relationship between the University and Georgia Special Olympics, says Bigham, adding that Emory has hosted the event for at least the past 25 years.
Ebrahimi notes that the games touch many parts of the campus community, from housing services — athletes and coaches will literally fill every dorm room on the main campus — to Sodexo, which will feed guests; and from University Police to Campus Services staff, many of whom will spend the night on campus to ensure that everything runs smoothly for visitors.
"It's definitely a way that Emory gives back to the community," she says. "My student staff works so hard for Special Olympics, basically running 24-hour overnight shifts, but it's a wonderful thing."
"It's also a great way to kick off our University conferences season, which will bring some 60 different groups to campus this summer," adds Ebrahimi.
Special Olympics Georgia has hosted summer games for special needs athletes since 1970 — among five seasonal state games held throughout Georgia each year.
"This is all about giving athletes hope and the ability to see they can accomplish many things and be successful and be good at something," Bigham explains. "For the community, it's a chance to see that, across the board, we have more in common than not."
This years Summer Olympic events will include:
Athletics (track and field)
Aquatics
Gymnastics
Distance running/walking (speedwalking)
Flag football
Soccer
Table tennis
Tennis
Track & field
Volleyball
Participants will begin arriving Thursday, but because many travel to the games on buses, parking should not be an issue for members of the Emory community, Ebrahimi says.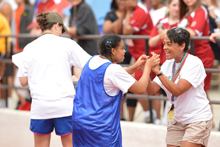 Athletes and volunteers celebrate together at the Special Olympics Georgia Summer Games. Photo by Rod Reilly.
Athletic events are scheduled at McDonough Field, Kaminsky-Candler Field, and throughout the Woodruff Physical Education Center (WoodPEC), track and tennis courts.
The mission of Special Olympics Georgia is to provide year-round sports training and athletic competition in a variety of Olympic-type sports for children and adults with intellectual disabilities.
In recent years, the organization has been recognized for holding among the largest Special Olympics games in the nation. Today, they boast 26,702 registered athletes, ranging in age from 8 to 83.
Participation not only provides opportunities to develop physical fitness, but a chance to share personal gifts, skills and friendship with their families, other Special Olympics athletes and the community, says Michelle Moreland, volunteer director of games.
"I think people are catching on that these games are important to not only Georgia, but our communities and our society," Moreland says.
"I've been a volunteer for 15 years, and in that time, I think the culture has changed toward acceptance," she continues. "I hope it's also being reflected this year in seeing more athletes participating. There are so many special needs children out there who don't even know about Special Olympics and could benefit from being a part of it."
For more information about Special Olympics of Georgia or a schedule of this weekend's events, check here.
---