Jordan Amadio has received the Excellence in Medicine Award, presented in association with Eli Lilly & Co., Novo Nordisk Pharmaceuticals, Inc., PhRMA and Pfizer Inc.
Jordan Amadio
Amadio is a senior neurosurgery resident. His academic interest is in incorporating novel machine interfaces with the human nervous system. He teaches and mentors students at the Global Biomedical Engineering design program conducted in partnership with Emory University, Georgia Institute of Technology and Peking University.

Amadio earned simultaneous MD and MBA degrees through a joint program by Harvard and the Massachusetts Institute of Technology. He co-founded Forge, which helps create medical technology start-ups, and also founded the Consortium for Wearable Computing.

Seven faculty members across the University have received the Crystal Apple Teaching Awards.
Excellence in Undergraduate Seminar Education: Matthew Weinschenk, senior lecturer, department of chemistry, Emory College of Arts and Sciences
Excellence in Undergraduate Large Class Education: Darryl Neill, Goodrich C. White Professor of Psychology in Neuroscience and Animal Behavior, Emory College of Arts and Sciences
Excellence in Undergraduate Business Education: Elliot Bendoly, associate professor of information systems and operations management, Goizueta Business School
Excellence in Undergraduate Nursing Education: Phyllis Wright, assistant professor, clinical, Nell Hodgson Woodruff School of Nursing
Excellence in Graduate/Professional School Education: Michael Kramer, assistant professor, department of epidemiology, Rollins School of Public Health
The William H. Fox Award for Emerging Excellence: Emily Bianchi, assistant professor of organization and management, Goizueta Business School
The Laura Jones Hardman Award for Excellence in Service to the Emory Community: Karen Stolley, professor of Spanish, Emory College of Arts and Sciences
The Residence Hall Association is the sponsor of these 15th annual awards, honoring Emory faculty members for outstanding achievements in teaching. Faculty members are nominated and selected by students.
Khalid Salaita was selected as a 2014 Camille Dreyfus Teacher-Scholar by the Camille and Henry Dreyfus Foundation.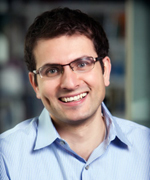 Khalid Salaita
Salaita is an assistant professor in the department of chemistry, Emory College of Arts and Sciences. His research focuses on the areas of materials, biophysical and biological chemistry.
The selection for the honor is based on the accomplishments of faculty in the chemical sciences who are within the first five years of their academic careers, have created an independent body of outstanding scholarship, and demonstrate a commitment to education.
The $75,000 unrestricted award will support Salaita's research program.
---