A rare assortment of original Hank Aaron materials is now available for research use at Emory University'sManuscript, Archives, and Rare Book Library (MARBL), some of which will be featured in a small exhibit on the baseball legend that opens at 7 p.m. Thursday, April 24 on level 2 of Emory's Robert W. Woodruff Library.
The exhibit, titled "He Had a Hammer: The Legacy of Hank Aaron in Baseball and American Culture," is co-curated by Emory University students Kyle Arbuckle, Warren Kember and Brett Lake, who are juniors and members of Emory's baseball team.
Faculty advisors are Pellom McDaniels III, MARBL faculty curator of African American Collections and assistant professor of African American Studies, and Dana White, Emory professor emeritus of American Studies and MARBL senior faculty curator.
The exhibit will draw mainly from the Richard A. Cecil collection, which was processed recently and opened to the public. A former baseball scout, assistant farm system director, and vice president of the Atlanta Braves, Cecil collected Hank Aaron materials as well as hundreds of scouting reports on players of his era.
Scouting reports, hate mail
Cecil's Hank Aaron materials in MARBL include scouting reports that assess Aaron's potential as a Major League Baseball prospect; telegrams between the Boston Braves management and the Indianapolis Clowns, Aaron's Negro League team; and a copy of Aaron's first contract with the Boston Braves (the team moved to Milwaukee in 1953, a year before his first MLB game with the Braves, then moved to Atlanta in 1966).
Most notable is the hate mail Aaron received as he closed in on Babe Ruth's home run record, which Aaron broke when he hit his 715th home run in Atlanta's Fulton County Stadium on April 8, 1974. The MARBL materials include about 150 letters from 1972 and 1973, some supporting Aaron as he chased the record, and some with foul language from people angry that he might break Ruth's record. Some of the letters contained death threats serious enough to trigger an FBI probe; the Cecil collection includes a report on the FBI's hate mail investigation.
"In some of the letters, these people described how they would kill him," McDaniels says. "I thought it was audacious; some people signed their names and provided return addresses, as if it were acceptable to say these hateful things without fear of any repercussions."
Baseball history, home run chase
The exhibit's three display cases also will include Aaron materials drawn from the collection of former Emory athletic director Clyde Partin Sr.; the Robert Langmuir African American photograph collection, and the African Americans and Sports and Black Print Culture collections in MARBL.
The first case, curated by Brett Lake, will feature books and ephemera regarding the history of baseball, including historical photos of Negro League teams and materials about Jackie Robinson, who broke baseball's color barrier when he became the first African American to play in Major League Baseball in 1947.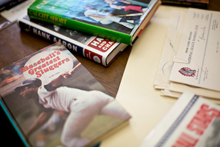 Emory Photo/Video.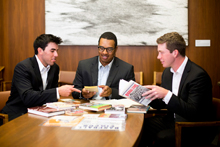 Emory students and baseball players, Brett Lake, Kyle Arbuckle, and Warren Kember review materials for an upcoming exhibition at Woodruff Library on Hank Aaron. Emory Photo/Video.
The second case, curated by Warren Kember, will focus on the transition years between Robinson and Aaron and will include letters and telegrams between the Braves and the Clowns, Braves scouting reports, and early Braves materials. "When I was looking at the scouting reports of the famous players, I could see myself in some of the criticism they were given," Kember says. "I was able to relate to the players based upon their abilities: slow hands, power to all fields, good baseball instincts."
The third display case, curated by Kyle Arbuckle, will center on the home run record chase. It will include a reduced-size image of a poster of Aaron's 715th home run ball on its way out of Fulton County Stadium, with the phrase "Move over Babe/Here Comes Henry" pictured on the reader board. This case also will contain some of the fan mail sent in support of Aaron's accomplishments, as well as a sample of the hate mail sent during the home run record frenzy. "Kyle was impressed that Aaron could accomplish so much under that kind of pressure," McDaniels noted.
Students explore primary evidence
The students did not work on the exhibit for class credit, but were so interested in the archive that they volunteered to curate it.
Kember attended one of Emory's Race and Sports in American Culture Series (RASACS) events last September and approached McDaniels, the series co-director, after the curator announced that MARBL had received some historical baseball papers. Kember, a double major in history and economics, visited MARBL the next day.
"After looking at the scouting reports, Pellom asked me if I wanted to work with the documents and conduct research on them," Kember recalls. "I could not turn him down." Arbuckle joined the project after Kember told him about the materials. Then Lake, who was making a video for the Emory Athletic Department of his two teammates' working in the archives, also became involved.
The exhibit is a model of the goals set forth in Emory's Quality Enhancement Plan (QEP). The student curators examined primary evidence housed in MARBL and conducted original research to draw meaningful conclusions, realize the relevance of history and connect it to their own lives.
"When Warren said he could see himself in the scouting reports, that motivated him to want to know more," McDaniels says. "This is one of the ways in which we can introduce our students to the joy of conducting research in the archives – first, let them find themselves in the archives. Find stories that are common, that they can attach themselves to, which will inspire them to want to know more."
The Robert W. Woodruff Library is located at 540 Asbury Circle in Atlanta, 30322. Parking is available in the Fishburne deck.
---