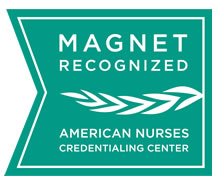 Emory Saint Joseph's Hospital is one of only three hospitals in the world and the only community hospital to achieve its fifth consecutive Magnet® designation. Magnet designation is a reflection of its nursing professionalism, teamwork and quality in patient care. Magnet is granted by the American Nurses Credentialing Center's (ANCC) Magnet Recognition Program®, which ensures that rigorous standards for nursing excellence are met. It is the only national designation that recognizes nurses as integral team members in influencing positive patient outcomes.
Emory Saint Joseph's became the third hospital in the world to receive Magnet designation when it received its first designation in 1995. Emory Saint Joseph's serves as a prominent leader of 401 healthcare organizations around the globe with this status.
"The nursing practice environment at Emory Saint Joseph's supports shared governance interdisciplinary collaboration, leadership, quality, safety, professional development and work-life balance. The focus of Magnet is how nursing excellence, achieved through a professional work environment, influences patient outcomes," said Joyce Soule, Vice President of Patient Care Services and Chief Nursing Officer of Emory Saint Joseph's Hospital. "Our Magnet culture at Emory Saint Joseph's has attracted the best of the best in all disciplines and provides a rich practice environment that enables nurses to live our nursing mission. Our team is devoted to providing excellent compassionate care honoring the Mercy Mission at Emory Saint Joseph's," she added.
To achieve Magnet recognition, organizations must pass a rigorous and lengthy process that demands widespread participation from leadership and staff. The process begins with the submission of an electronic application, followed by written documentation demonstrating qualitative and quantitative evidence regarding patient care and outcomes. If scores from the written documentation fall within a range of excellence, an on-site visit by the ANCC will occur. After this rigorous on-site review process, the Commission on Magnet will review the completed appraisal report and vote to determine whether Magnet recognition will be granted.
Magnet recognition has been shown to provide specific benefits to hospitals and their communities, such as:
Lower mortality rates
Lower hospital acquired infection rates
Higher patient satisfaction
Higher job satisfaction among nurses 
"Achieving Magnet recognition sends a message to our community and our patients that we are committed to providing the best care possible. Since our first Magnet designation in 1995, we have built upon our successful foundation, maintained our core values and devoted ourselves to providing compassionate care. Clearly, these standards of excellence allowed us to achieve our fifth designation and sustain our identity and reputation for having one of the most exceptional teams in the world," said Scott Schmidly, CEO of Emory Saint Joseph's Hospital.
Because of its importance, Magnet recognition is taken into consideration when health care organizations are ranked nationally for their clinical programs and expertise. In fact, U.S. News & World Report's annual issue of "America's Best Hospitals" includes Magnet recognition in its ranking criteria for quality of inpatient care.
For other hospitals within the Emory Healthcare system, Emory University Hospital Midtown submitted its Magnet application in Aug. 2013, and is now preparing for document submission to the ANCC in the next few years.
---