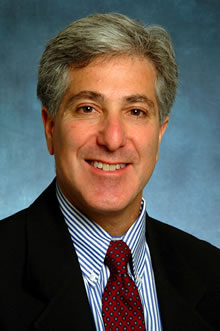 The Pat Summitt Foundation has announced the formation of a medical advisory council of prominent Alzheimer's disease experts from around the country to advise the foundation on medical and research issues. Allan Levey, MD, professor and chair of the Department of Neurology and director of the Emory Alzheimer's Disease Research Center at Emory University School of Medicine has been selected to serve on the council.
The council is co- chaired by John Dougherty, MD, medical director of Cole Neuroscience Center at the University of Tennessee Medical Center, and Ronald C. Petersen, MD, director of the Mayo Alzheimer's Disease Research Center and the Mayo Clinic Study of Aging in Rochester, Minn. 
Other council members are William Rodman Shankle, MD, director of Shankle Clinic,  chair of Memory and Cognitive Disorders at Hoag Neurosciences Institute, and associate researcher with the Cognitive Science Department at the University of California, Irvine; and Pierre N. Tariot, MD, director of the Banner Alzheimer's Institute, co-director of the Alzheimer's Prevention Initiative and research professor of psychiatry at the University of Arizona College of Medicine.   
The Pat Summitt Foundation was established by Pat Summitt, head coach emeritus of the University of Tennessee Lady Vols basketball team, with her son Tyler in November 2011, shortly after her Alzheimer's diagnosis. Dedicated to winning the fight against Alzheimer's disease, its mission as a grant making foundation is to advance research for prevention and a cure; to provide hope, care and critical support for patients, caregivers and families; and to educate the public on the impacts of Alzheimer's disease and the urgent need for a cure.
The council chairs expressed their welcome to The Pat Summitt Foundation's Medical Advisory Council, noting that the new members are preeminent Alzheimer's disease practitioners and researchers who bring valuable knowledge, experience and expertise to the Foundation's efforts.
"Dr. Petersen and I are excited to work with Dr. Levey, Dr. Shankle, and Dr. Tariot to advise and guide The Pat Summitt Foundation on medical and research developments in the treatment of Alzheimer's disease," says Dougherty.
---