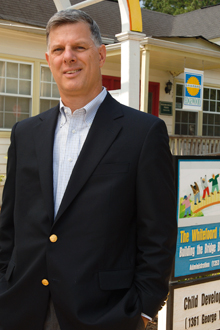 Lyndon Johnson declared war on poverty 50 years ago in his State of the Union speech before poverty had even been commonly discussed as a national political issue.
Recognition of the problem is much more widespread in 2014, but a new Emory University course, led by Michael Rich, a poverty expert and associate professor of political science and environmental sciences at Emory, seeks to arm students, no matter what profession they pursue, with a better understanding of poverty and the strategies that could help fight it.
"Johnson's War on Poverty speech was really the first time we acknowledged that we have poverty in America. Until then, poverty wasn't really talked about much in public policy discourse," says Rich, who is also executive director of Emory's Center for Community Partnerships.  
The spring course, one of four University courses offered this semester open to Emory students from all majors and years, explores the successes and failures of the War on Poverty. The course is being taught by a diverse range of Emory experts from law, theology, public health, educational studies, political science and sociology. It has also featured poverty experts from other universities, a poverty simulation and site visits to some of Atlanta's high poverty neighborhoods.
"I was a little skeptical about the course at first. But a course with grad students and undergrads from different backgrounds, being taught by faculty with different backgrounds, has gotten us to ask different questions than we would have and see things in a different way. It's been very helpful," says Nancy Arrington, a graduate student in political science.
The course looks at the history of poverty policies and it also reflects on modern poverty in metro Atlanta and includes residents, community leaders, nonprofit executives and government officials as speakers and panelists. Students also visit relevant sites for a first-hand look at poverty in Atlanta, including neighborhoods near Turner Field and East Lake.
"Our site visit [to an Atlanta neighborhood near Turner Field] was really shocking," says Takuya Maeda, a sophomore majoring in history. "I've taught school in East Harlem and I thought I knew what poverty looked like. But it was a great experience, seeing urban decay but also hearing strategies for hope and the possibility of renewal."
The site visits help put a human face on the historical and policy information students are exploring in the course, Rich says.
"The goal is for students to come away from the course with a more holistic idea of poverty in America and how to end it," Rich says. "We hope students pursue the kinds of careers that allow them to address these issues and to be effective community builders in whatever profession they choose."
---