Emory President James Wagner joined U.S. Congressman John Lewis, U.S. Poet Laureate and Emory professor Natasha Trethewey and others for the 14th Congressional Civil Rights Pilgrimage March 7-9.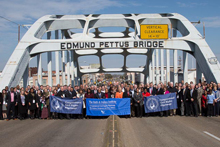 The annual Congressional Civil Rights Pilgrimage commemorated the 49th anniversary of Bloody Sunday with its annual march across Edmund Pettus Bridge in Alabama. Photo Credit: Byron Buck
The pilgrimage provides a journey through living history with visits to various sites pivotal to the civil rights movement. This year's trip included travel around Mississippi and then to Selma, Ala. The delegation also was comprised of other members of Congress, religious and civil rights leaders, journalists and students.
This year marks the 50th anniversary of Mississippi's Freedom Summer and the 49th Anniversary of Bloody Sunday, one of the most significant events of the civil rights movement. The annual pilgrimage commemorated Bloody Sunday with its 14th march across Edmund Pettus Bridge in Alabama. Rep. Lewis, who, as a civil rights activist, led the marchers 49 years ago, served as chairman of the pilgrimage. Lewis is slated to be Emory's commencement speaker this year on May 12. 
The pilgrimage is sponsored by the Faith & Politics Institute and aims to bring people together across political, religious and racial lines, offering opportunities for engaged and reflective dialogue on the value of the civil rights movement and its meaning for us today.
---