On Monday nights, Gunshow, a trailblazing new restaurant in southeast Atlanta, is closed for business. But on a late March Monday night, the restaurant was open for Lauren Holt's composition course for non-native speakers of English.
The lesson was on blending culture through food; food as memory; and food as a way to memorialize and recollect. And the medium was banana pudding.
The big question: How are food and culture related? "There's no perfect answer though that makes it a useful guiding question for any class especially for my current students," said Holt.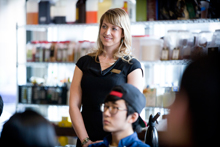 Lauren Holt. Emory Photo/Video.
Holt was awarded a mini-grant from the Center for Faculty Development and Excellence (CFDE) to arrange an evening of discussion around food and culture with Gunshow founder and TopChef finalist Chef Kevin Gillespie and Gunshow Chef de Cuisine Joey Ward.

"I hope that when students leave my writing courses they have become savvy communicators across a number of genres, both as creators and as audiences of all sorts of texts.  Food happens to be the topic through which students practice the skills necessary to achieve these goals in this particular course, and I have been mindful of connecting this event to our rhetorical objectives," Holt said.  
"This course is part of the Emory Writing Program's Domain of One's Own pilot, an initiative that requires students to curate their own websites and publish their writing digitally, so my students have spent some time analyzing and then blogging about Gunshow's web presence, television and print interviews Kevin has given about their mission, and profiles of the restaurant itself." 
Some degree of experience and expertise, to me, seems especially important for international students who we are asking to communicate in their second or third or sometimes even fourth language. I value the diversity of experience they bring to class" Holt said, whose classes include students from China, Korea, Nepal, Tibet, India, and Turkey.
Food experiences "pretty closely parallel what my students explain they are experiencing right now in terms of intersections of food cultures they left at home with their families and those they are discovering here at their new home in Atlanta," she said. "As they try to find a way to remember and relive the dishes that might be nostalgic for them in a place that is still quite foreign, they are also trying new things and trying to become part of this new culture."
"Gunshow is one of my favorite restaurants in Atlanta. Their food is amazing, of course, but I am especially drawn to it because Kevin and Joey and the rest of the team think about food similarly to how my students and I have been thinking about it this semester. Its value extends beyond nourishment — though nourishment is important – to include the social and cultural currency that food can carry," she said.
The lesson
Gillespie told the students seated at Gunshow's communal tables, "Joey and I decided we wanted to tell our own personal stories through the food that we make," noting that "the goal was to every day craft a new menu, make whatever food each person who was cooking felt compelled to do.

"We're tasked with treating the strangers who come to our restaurant like family. So when we make food, we sit down with them, we talk with them and walk them through the things that we make.
"And we hope that somewhere in the whole meal in the process of it they'll have a bite that reminds them of something, that draws them in and that's the key to our success. 
"We're all linked in that food means something more to us than sustenance. It gives us a chance to harness an old memory and create a new one."
Gillespie's story
"I come from a very big family. There were about 30 of us and we all ate together, three meals a day every single day. From that, I realized at a very young age, that there was this tremendous impact to food, that it wasn't just something that we did for nourishment but that it carried a lasting impression and that it had outstretching implications beyond just being full every single day."

Ward's story
"It's a miracle I became a chef because there's no heritage there. My mother made the Hamburger Helper. What I really love is the emotional connection you can have with a perfect stranger through a new experience through taste, evoking emotion through food." 
The students' reaction
Gillespie asked, "Out of curiosity who liked the new banana pudding best?" No hands go up. "Who liked the old one best?" Almost all hands go up. Laughter.
Ward asks if anyone has had a dish since they've been in the States that was "strange and bizarre." Immediately, a student answered, "Salad."
"Salad? That's awesome," Ward said. "You remember when you had it the first time and you thought it was super-weird? That was a memory, even though it was a weird one. You still connected with where you were at that moment."
One student asked the secret of the bacon powder, which Ward explained as creating the "essence of bacon, not the meat."
Wrapping up the evening, Holt said, "We have been thinking about food as metaphor." She asked for examples.
Gillespie:
"Food is a mirror of the soul."
Ward:
"Food is life. It provides life but for me, it is literally my life."
Holt: Food, for me, is an entryway to other times and places, like a black hole in science fiction.
Student: It's one of my best friends.
Student: It's de-stressor.
Student: Food is like a gift box. It brings you happiness; it will always surprise when you taste a dish.
Student: Food is the essence of tradition of culture and family.
Holt explained that the pedagogical value is equally as important as the evening's fun, new experiences for the students. "I want to thank the CFDE for their support and Joey and Kevin for graciously hosting this event. They willingly dug deeply and meaningfully into these big questions with my students and demonstrated food's power to bridge cultures while creating new food memories and at the same time evoking old ones. Banana pudding was our object lesson, but the stories Joey and Kevin shared taught us more than just their long and complex relationships with food and family; they taught important skills in weaving any compelling narrative."
Gillespie's banana pudding story
We had banana pudding once a year. My family only ever made it on Thanksgiving when 100 people came to eat and they only ever made one pan of it at a time.
It was always made by the oldest woman in the family. She was the only person who had the recipe and once she was too old to make it, she verbally passed that recipe down to the oldest woman in the next generation.
That's the way the recipe was preserved and that's also the way the pecking order worked for who got to try it. When the dessert bell rang, it went from age down. Kids didn't get any. The pan was hidden because there wasn't enough. But if you found it, you got the first bowl regardless of age.
When I was 9 years old, I found it and I ate all of it.
Many years down the road, it's important that I did that. My grandmother was the one who got the recipe and she passed away before she gave it to my mother. So the recipe died with her. 
Couple of years ago when I set out to write my first book I felt compelled to archive this recipe and the only thing I had to work with was that one memory when I was 9 years old — the only time I had ever tasted it and I built the recipe off of that. So is it perfect? No. The more important things is that it reminds people of something.
It takes a catalyst to draw out lost memories.  Something simple like dessert becomes this tangible thing that we share, that links us together.
---