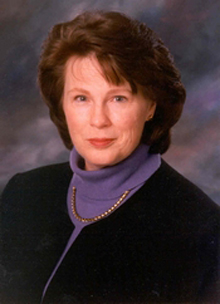 The Carter Center Board of Trustees has announced the appointment of former Ambassador Mary Ann Peters as chief executive officer of The Carter Center, effective Sept. 2.
Peters, currently provost of the U.S. Naval War College, will provide vision and leadership for The Carter Center, and will oversee all program implementation and operations. The Carter Center is the not-for-profit, nongovernmental organization founded by former U.S. President Jimmy Carter and former First Lady Rosalynn Carter in 1982 to "wage peace, fight disease, and build hope" worldwide.
Peters succeeds John Hardman, who has held the post since 1992.
"Ambassador Peters brings a lifetime of experience in global affairs to fulfilling The Carter Center's mission to advance human rights and alleviate human suffering," Board of Trustees Chairman Oz Nelson said. "We look forward to her counsel and leadership as the Center furthers the courageous and ambitious charge set by Jimmy and Rosalynn Carter to do all we can to build hope for those most in need."
President Carter and former first lady Rosalynn Carter also extended their welcome. "Ambassador Peters' commitment to world peace and human rights and her diplomatic expertise bring principled and experienced leadership to the Center's critical mission to secure basic human rights worldwide," President Carter said.
"I also wish to thank Dr. John Hardman for his many years of effective and passionate service to The Carter Center, which has made a profound difference to our programs and ultimately to the lives of many millions of people," he said.
The Carter Center is an affiliate of Emory, independently governed by a board of trustees that includes six Emory trustees and Emory President James Wagner. President Carter is University Distinguished Professor at Emory.
The Center has improved the quality of life for many millions of people in 80 nations by resolving conflicts; advancing democracy, human rights, and economic opportunity; preventing diseases; improving mental health care; and teaching farmers in developing nations to increase crop production.
Peters has been provost of the U.S. Naval War College since September 2008. Previously, she was dean of academics of the College of International and Security Studies at the George C. Marshall European Center for Security Studies in Garmisch — Partenkirchen, Germany. 
Prior to becoming dean of the college, Peters served as associate director for international liaison at the Marshall Center.
 Peters spent more than 30 years as a career diplomat with the U.S. Department of State. 
From 2000 to 2003, she was U.S. Ambassador to Bangladesh, leading the mission's efforts in support of the war on terrorism and other key U.S. foreign policy goals. She received a Presidential Meritorious Service Award in 2003 for her work there.
Prior to her posting in Dhaka, Peters was the deputy chief of mission at the U.S. Embassy in Ottawa, responsible for the management of the embassy and supervision of the six U.S. consulates general in Canada.
From 1995 to 1997, Peters served in the White House as director for European and Canadian Affairs at the National Security Council. Among other portfolios in this position, Peters worked on the diplomatic and security aspects of the search for peace in Northern Ireland. 
From 1993 to 1994, Peters served as deputy assistant secretary of state with oversight responsibility for U.S. relations with 19 Western European countries and Canada. In this capacity she acted as the U.S. chair of the U.S. — Canada military coordination body, the Permanent Joint Board on Defense. 


A senior diplomat, Peters also has served in Sofia, Bulgaria, as deputy chief of mission; in Moscow as economic counselor; and in Mandalay, Burma, as principal officer. 
From 1988 to 1990, Peters was the deputy director of the Office of Pakistan, Afghanistan, and Bangladesh Affairs in the State Department. She began her career as a vice-consul in Frankfurt, Germany, in 1975. 


Peters holds a bachelor of arts degree from Santa Clara University and a masters of international studies from the Johns Hopkins University School of Advanced International Studies. Her formal education also included courses at the Institut d'Etudes Politiques in Paris. Peters is a member of the Council on Foreign Relations and Women in International Security.
---