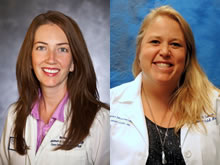 Emory Perinatal Center, located at Emory University Hospital Midtown, has been awarded ultrasound practice accreditation by the Ultrasound Practice Accreditation Council of the American Institute of Ultrasound in Medicine (AIUM). This recognition was achieved by meeting rigorous voluntary guidelines set by the diagnostic ultrasound profession.
Emory Perinatal Center, which is led by maternal-fetal medicine specialists Martina Badell, MD, and Amber Samuel, MD, both assistant professors in Emory University School of Medicine's Department of Gynecology and Obstetrics, was awarded accreditation in the areas of obstetric ultrasound and fetal echocardiography.
"Ultrasound is an important tool for assessing both maternal and fetal health during pregnancy," said Badell. "It is the only way we can assess issues which will require specialized care and interventions. It is vital that we have high-quality imaging performed by certified technicians and read at a certified site."
Emory Perinatal Center is the only practice at an Emory-affiliated hospital with AIUM accreditation. It is also the only practice in the state of Georgia with AIUM accreditation in fetal echocardiography, a detailed sonographic evaluation used to identify and characterize fetal heart anomalies before delivery. "With this accreditation, we are able to care for women with congenital heart defects and screen all at-risk babies for the possibility of congenital heart defects," said Badell.
"This accreditation demonstrates our commitment to clinical excellence," said Samuel. "Ultrasound allows us to individualize care for each patient based on our assessments, and now our patients can be assured that our practice meets or exceeds nationally recognized standards in the performance and interpretation of this exam.
In achieving accreditation, all facets of the practice were assessed, including the training and qualifications of physicians and sonographers; ultrasound equipment maintenance; documentation; storage and record-keeping practices; policies and procedures to protect patients and staff; quality assurance methods; and the thoroughness, technical quality and interpretation of the sonograms the practice performs. The accreditation lasts for three years.
The Emory Perinatal Center also offers preconception counseling and consultations for women with high-risk pregnancies.
---