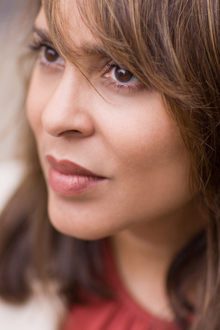 "Poems from Prison," featuring U.S. Poet Laureate Natasha Trethewey's visit to the King County Juvenile Detention Center near Seattle, will be broadcast Monday, March 17, on the PBS Newshour.
Trethewey and Newshour anchor Jeffrey Brown meet participants in the Pongo Teen Writing Project, which is the subject of this installment in "Where Poetry Lives," the series exploring societal issues through the lens of poetry. 
Trethewey is the Robert W. Woodruff Professor of English and Creative Writing and director of the Creative Writing Program at Emory.
The Pongo Project's goal is helping homeless and incarcerated teens overcome trauma in their lives.
Trethewey said the visit held special meaning.  "My brother started writing poems in prison.  He told me it was about making something out of the bad situation he was in.  To make a poem out of that situation felt like, the act of creation, a triumph over the experience."
Trethewey's reflections with an accompanying video of her reading her poem "Benediction," which she wrote about the day her brother was released from prison will be posted to the Newshour's page on "Where Poetry Lives."

The program airs locally on Georgia Public Broadcasting at 6 p.m. and 10 p.m. and on Atlanta's WPBA at 7 p.m.
---