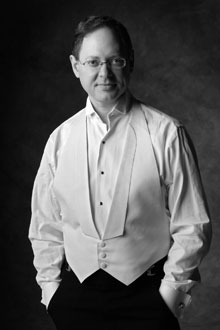 Hear Beethoven's majestic Fifth Symphony played on two pianos on Friday, March 21, at noon in the Michael C. Carlos Museum Reception Hall.
Canadian virtuoso Philip Thomson and Mary Emerson Professor of Piano William Ransom will perform the free concert.
"Like much of the greatest music written, it works beautifully in transcription for four-hands at one piano. The music seems to transcend the instrumentation," Ransom says of Beethoven's well-known composition.
The symphony, generally performed by an entire orchestra, will provide "a real thrill for pianists to be able to play this iconic masterpiece and experience the visceral joy of actually playing the music rather than just listening to it," he says.
Presented in collaboration with the Carlos Museum, the concert is part of the Emory Chamber Music Society of Atlanta's noontime series.
Though this public concert is free, the Emory Chamber Music Society of Atlanta is accepting donations to match a $1 million grant that will keep a permanent string quartet at Emory. Currently, the Vega String Quartet is Emory's resident string quartet.
For more information about the concert, visit Arts at Emory or call 404-727-5050.
---