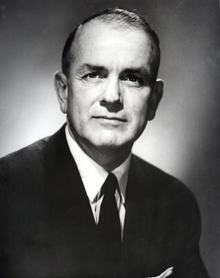 Randolph Thrower, a graduate of Emory College of Arts and Sciences and Emory's School of Law and an emeritus trustee, died on March 8 at his home in Atlanta. Thrower had marked his 100th birthday in September.
As an Emory student, Thrower was recognized in the campus yearbook as a leader "respected for his sober judgment, admired for his versatility, and liked by all for his genuine friendliness." While here, he met his wife, Margaret Logan Munroe, who died in 2009, and also his closest lifelong friends: Boisfeuillet Jones, Bruce Logue, Albert Reichert, and Jimmy Ferman.
As an undergraduate, Thrower served as president of the student body and of his fraternity, Kappa Alpha, and wrote for the Emory Wheel, where he earned the nickname "Scoop." He graduated from the College in 1934 and the law school in 1936.
Thrower was elected an Emory trustee in 1972 and became an emeritus trustee in 1983. In 1969, he received the Emory Medal, the University's highest alumni honor. He received an honorary doctor of laws from the University in 1984. In 2011, he was named one of Emory's 175 Makers of History.
"Emory benefited greatly from Randolph's ethical and far-sighted leadership as a longtime trustee," says Emory trustee Laura Hardman 67C. "Both principled and pragmatic, he was consulted on all major issues for his good judgment. The same was true in his law firm and other institutions he worked to build."
Lecture series endowed
Since 1995, the law school and the Emory Law Journal have hosted the Randolph W. Thrower Symposium, part of an endowed lecture series sponsored by Thrower's family.
"Mr. Thrower provides a shining example of a brilliant and creative professional who always remained integrally connected to his law school," says Emory Law Dean Robert Schapiro. "He demonstrates how it is possible for a lawyer to attain the highest levels of leadership in government, public service, and private practice, and to advance ideals of justice in all of these realms. The Thrower Symposium will remain a lasting tribute to Mr. Thrower and his passionate devotion to legal education."
"Emory has lost a remarkable alumnus in Randolph Thrower," says Martha Fagan, formerly senior director of alumni relations for the Emory Alumni Association.
"His history with Emory spanned seven decades, from his years as a student through his engagement with the law school and his long and dedicated service as an Emory trustee. Mr. Thrower interviewed students on campus for his law firm, he mentored countless young lawyers, he was a trusted counselor to several Emory deans, he was a founder of what is now the Emory Law Dean's Advisory Board, and a president of the law school and University alumni associations. He was highly intelligent and possessed of an enormous capacity for joy. He was a true gentleman in the finest sense of the word."
Joel Langdon, a law student and editor-in-chief of the Emory Law Journal, says the Thrower Symposium has been a highlight of his law school experience. "Through Mr. Thrower's generous gift, we are able to host the leading scholars and jurists on topics that span the full realm of possibility," Langdon says. "Mr. Thrower's legacy to the school and journal is one that will continually enrich our intellectual and academic lives for years to come."
Serving the public good
Thrower served in the U.S. Marine Corps before joining the Atlanta law firm of Sutherland, Tuttle and Brennan in 1936, where he practiced tax litigation and remained a partner until his death. He also was dedicated to public service and pro bono practice, serving as president of Atlanta Legal Aid Society and the American Bar Foundation.
In 1969, Thrower was appointed commissioner of the Internal Revenue Service by President Richard Nixon, where he served for two years. Obituaries in the New York Times and Washington Post describe his stoic resistance to unethical practices by the administration, which ultimately resulted in his dismissal. He returned to Atlanta and the law.
"Randolph loved practicing law, always went the last mile for his clients, and was fearlessly ethical in upholding the highest standards of the profession," says Emory Law Professor Charles Shanor. "He loved life, kept a twinkle in his eye, and mentored younger lawyers wisely."
Thrower chaired the Board of Ethics of the City of Atlanta from 1980 to 1992. He was a former chairman of the Tax Section of the American Bar Association (ABA) and served on the ABA's Commission on Women in the Profession from its inception in 1987 until 1993; he was a member and former chair of the Georgia State Bar Committee on the Involvement of Women and Minorities in the Profession.
In 1993, the American Bar Association recognized Thrower's achievements and contributions to the legal profession by presenting him with its highest award, the ABA Medal.
"Those who knew Randolph remember him for his unerring moral compass, his respect for all persons, regardless of station, and his gentle and dignified spirit," says Thrower's daughter Patricia Barmeyer. "But they also will never forget his wonderful wit and appreciation for a good story, told by him or anyone else."
Thrower is survived by his five children, eleven grandchildren, and nine great-grandchildren.
---