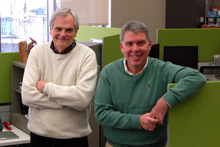 A newly remodeled, redesigned space in the Robert W. Woodruff Library now houses the Emory Center for Digital Scholarship (ECDS) and the Center for Faculty Development and Excellence (CFDE).

Both centers plan to hold an open house on Thursday, March 27, from 4 to 6 p.m., with tours and refreshments. RSVP here.
Previously located in various areas of the Woodruff Library, each unit collaborated with Emory scholars in different ways to incorporate technology into their teaching and learning. Combining them as one entity under ECDS is designed to eliminate barriers between their functions and simplify the process for scholars.
Another new tenant, Classroom Technology Services, has relocated from Cox Hall to the Woodruff Library on level 2  in the former ECIT space.
Classroom Tech provides in-room support, consultation and training for Emory faculty, technology needs in classrooms for staff and approved student groups, meeting rooms, and collaborative spaces across campus.
Classroom Tech also services technology-equipped spaces around campus. For more information, contact classtech@emory.edu or 404-727-6853.
Emory Center for Digital Scholarship
Located on the third floor of the Woodruff Library, ECDS provides consultation and support for digital teaching, research, publishing and preservation. ECDS offers faculty and graduate students the space, expertise, and project management assistance to develop digital projects.
"Our goal was to create a one-stop center for faculty and graduate students to get the help they need with digital projects, publishing and pedagogy," says Wayne Morse Jr., ECDS interim co-director.
"We wanted to bring them together with a dedicated group of librarians and IT professionals, to work as an interdisciplinary team that draws on all areas of their respective expertise to create new types of digital pedagogy, projects and publications, from start to finish."

The glass-front, wide open space on Woodruff Library level 3 accommodates the larger ECDS, which is created from the merger of four digital-based teaching and research units: the former Digital Scholarship Commons (DiSC), the Emory Center for Interactive Teaching (ECIT), the Electronic Data Center, and the Lewis H. Beck Center for Electronic Collections.
The core staff of nine people includes librarians and IT specialists. Three positions are shared faculty appointments, and approximately 24 graduate students and post-docs assist in various ways, such as helping with video projects, supporting pedagogy and setting up appointments with the staff. Walk-ins are also accepted depending on availability.
Although its primary customers are faculty and graduate students, ECDS will also assist undergraduates, just as ECIT has done in the past, Morse says. Future plans call for helping both undergraduates and graduate students with digital projects using some of the workstations in the Learning Commons area across from ECDS.
The redesigned area includes a:
videoconferencing room that can be reserved
glass-walled conference room with a 70-inch SmartBoard
secure data room
"phone booth" room where a single user can Skype or make a phone call without disturbing others
audio-visual suite where ECDS patrons can record tutorials, lectures, interviews
consulting space for staff to work with faculty and graduate students
The space is also home to the peer-reviewed, online journal Southern Spaces, now in its 10th year, which provides a working example of a digital journal; senior editor Allen Tullos is ECDS co-director with Morse.
ECDS is currently shepherding 36 projects, two of which were recently completed. That includes former Beck Center projects, the Atlanta digital mapping project, and the Digital Atlanta Geocoder project, which involves creating digital tools and applications to plot 1928 Atlanta buildings on an interactive digital map, providing a new way to view and analyze demographic and historic data. ECDS also provided technical support for the launch of the new online magazine Sacred Matters, edited by Prof. Gary Laderman, chair of Emory's Department of Religion.
For more information, contact the ECDS or call 404-727-4955.
Center for Faculty Development and Excellence
The Center for Faculty Development and Excellence (CFDE) has moved into the second level of Woodruff, into half of the former ECIT space.
Previously located at 1599 Clifton Rd., CFDE's new home on campus makes it more convenient for faculty to use its services. CFDE, funded by the provost's office, supports the work of faculty at all levels and career stages. The center will provide seminars, workshops and services on a host of topics focused on research, writing, teaching and other aspects of career development.
"When CFDE was in the 1599 building, we were removed from the people we serve. Our engagement with faculty happened in spurts and around mostly organized and planned events," says CFDE director Pamela Scully. "Now, we are right in the center of the library, with glass offices and space for faculty to come and work and consult with us."
Scully adds that CFDE's move to the library will result in greater synergy not just with the faculty but with ECDS and other partners on campus, since they have the common goals of assisting faculty.
"For CFDE, the move to the Woodruff Library is so welcome," Scully says. "We already work in partnership with the Emory Center for Digital Scholarship, and this move will greatly facilitate our collaborations, and allow us to create new ones."
For more information, contact the Allison Adams at the CFDE or call 404-727-4955
---