Each of the agents the Winship Cancer Institute use to treat cancer had a beginning, a first step, in understanding how safe and effective they might be. Not only does Winship use these tested anti-cancer agents, but the institute plays a role as the site many clinical trials for cancer treatment. As such, Winship doctors are able to offer advanced treatments to patients. Clinical trials are available for patients at all points in their cancer journey, not just for patients with advanced cancer that is not responding to treatment.
As drugs are developed, researchers ask questions in different ways at each step, or phase, of testing. When a drug is first given to patients, it enters testing in a "phase I" trial, where investigators ask questions such as:
What is the right dose?
How should it be given (e.g., by mouth, by vein, under the skin)?
What is the right schedule of treatment?
What side effects are there and how severe are they?
How often do we see side effects?
Where did the drug go in the patient? How well was it absorbed? How was it metabolized and/or eliminated? (Pharmacokinetics)
What did the drug do to the patient, both in blood and at the site of the cancer? (Pharmacodynamics)
Patients entering phase I trials are asked to do many time-consuming but important things during the trial. Frequently, patients are asked to spend 10-12 hours in our clinical trials unit and/or come in daily up to 14 times during the first treatment period, or cycle. During these visits, blood is drawn, tumor or bone marrow biopsies may be performed and safety tests are conducted, all in an effort to get a complete picture of drug effect, disposition and side effects.
Participation in phase I clinical trials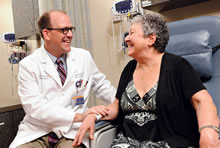 R. Donald Harvey with Winship Cancer Institute patient Carolyn Higgins
To participate in a phase I trial, patients typically have cancer that has not been effectively treated with other therapies, and most trials require patients to be otherwise relatively healthy. Phase I trials usually enroll 10-40 patients, but may be larger or smaller depending on the questions being asked.
Two types of phase I trials exist: those where the drug is being given for the first time, or first-in-human trials; and those where there is prior experience and the drug is given in combination with another drug or drugs (also called phase IB trials). In each, the investigational agent is given to small groups of patients, and doses are increased in each group. Both types are critical to the next step of development to define the dose, frequency, and understand what cancer types are most likely to benefit.
Phase I trials help to determine the future of drugs in cancer treatment. Right now, the large number of new agents in early testing indicates great potential in the transformation of therapy. People in good health may choose to participate in clinical trials simply to help researchers find better treatments. Participation in clinical trials is completely voluntary, but a patient should also speak with their physician before deciding to enroll.
Phase I at Winship
In 2013, 760 patients were enrolled in 250 Winship clinical trials, testing new therapies. In the last seven years, 75-percent of new cancer treatments approved by the Food and Drug Administration have been tested in clinical trials available at Winship. For more information on cancer clinical trials, visit winshipcancer.emory.edu.
---