Emory Eagles win 2nd-round NCAA tournament game
By John Farina | Emory Athletics | March 9, 2014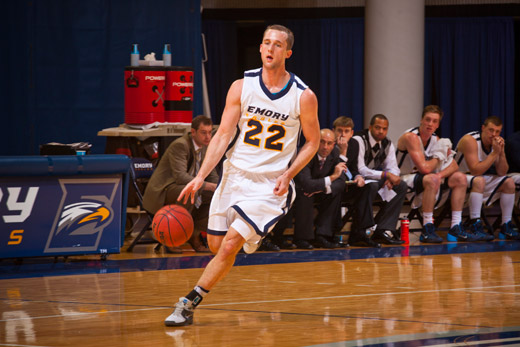 The Emory men's basketball team, competing in the postseason for the second straight season, hosts a second-round NCAA Tournament contest on Saturday, March 8. Pictured left: Jake Davis, a senior from Cincinnati, Ohio, is the school's No. 2 all-time leading scorer.
Senior McPherson Moore led five Emory double-figure scorers with 16 points in leading the Eagles to a second-round win in the NCAA D-III Tournament Saturday evening over Centre College.  The Eagles advanced to the Round of 16 for the second time in school history and upped their overall record to 18-8 following a 72-62 decision over the Colonels who closed out their year with a slate of 24-5.
For more information, please visit the Emory Eagles website.