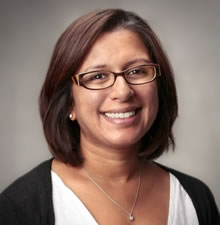 Ragini R. Kudchadkar, MD, has joined the Winship Cancer Institute of Emory University as an assistant professor in the Department of Hematology and Medical Oncology. She will concentrate on cutaneous oncology with an emphasis on the development of clinical trials for patients with metastatic melanoma.

"Dr. Kudchadkar is a stellar young clinical investigator, one with the talent and the commitment to make a major impact on the treatment of patients with melanoma," says Fadlo R. Khuri, MD, chair of the Department of Hematology and Medical Oncology and deputy director of Winship. "We have been trying to recruit her back to her native Georgia for several years and we are delighted that she has joined the department and Winship.  She will make a real difference."

Kudchadkar previously worked as an assistant member of the Department of Cutaneous Oncology at the H. Lee Moffitt Cancer Center in Tampa, Florida. In addition to her clinical practice, Kudchadkar is involved in research that focuses on signal transduction inhibitors for the treatment of metastatic melanoma with a secondary interest in rare cutaneous malignancies such as advanced merkel cell and basal cell carcinomas. Key to her research is the development of innovative therapeutic approaches via the discovery of novel drug targets and new drug combinations to overcome resistance to current therapies.

Kudchadkar graduated from the Emory School of Medicine in 2003 and completed her internal medicine residency at Emory in 2006.  She pursued her hematology and medical oncology training at the University of Colorado in Denver, CO, where she also served as chief fellow.
Winship Cancer Institute
Winship Cancer Institute of Emory University is Georgia's only National Cancer Institute-Designated Cancer Center and serves as the coordinating center for cancer research and care throughout Emory University. For over 75 years, Winship has served the citizens of Georgia and the Southeast by working tirelessly to prevent, treat and cure cancer.

To learn more about the Winship Cancer Institute of Emory University, its research, outreach, clinical trials and faculty and staff, visit winshipcancer.emory.edu.
---